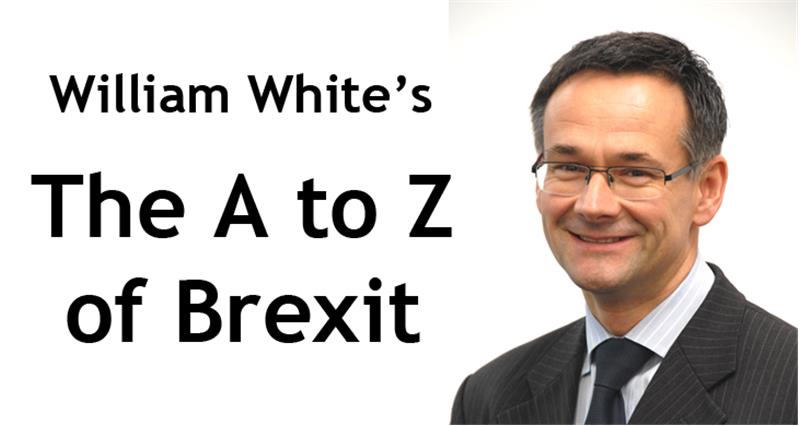 NFU South East Regional Director, William White, has written an essential guide to Brexit. This article originally appeared in the South East edition of British Farmer and Grower magazine (August 2016):
My hopes for a new career in song-writing have not materialised after last month's editorial, so it is back to the farming issues of the day.
Below is my essential guide to Brexit. I failed to interest the Daily Mail in this copy on the basis that it "didn't sufficiently reflect the urban majority of the readership and country as a whole".
A is for action. In every discussion the NFU has with decision makers we are seeking their early commitment to ensure British farming and horticulture is not disadvantaged. Our industry is strategically important to the country and too important to the economy to be ignored.
B is for Brxit – a typo you might think; but it's a post-referendum derivative of 'to brick it' in the wake of the exit vote.
C is for the consultation that'll be taking place among all NFU members over the summer months.
D is for dust that still hasn't settled.

E is for extraordinary meeting of NFU Council that agreed the NFU's core principles as: to achieve the best possible access to Europe's markets; to get access to markets in the rest of the world, while ensuring we are protected from imports which are produced to lower standards; to ensure a supply of labour, both seasonal and full-time; to build a domestic agricultural policy which is as simple as possible, adapted to our needs and guarantees parity of treatment with European farmers, who will still be our principal competitors; regulations and product approvals must be proportionate and based on risk and science.

F is for Farage whose rant in the European Parliament has probably ensured our negotiators get an even tougher time, in the trade access agreement talks.

G is for Gove and we're not going there but the NFU and you need to lobby MPs like they've never been lobbied before.

H is for hubris evident across the political spectrum but not in your NFU leadership team.

I is for incumbents at the civil service. Will gold plated legislation be a thing of the past?

J is for journey into the unknown, but the NFU has a plan.

K is for keep calm and carry on – it had to be said!

L is for long-haul. If and when Article 50 is invoked, there are two years in which to negotiate the withdrawal from Europe. This can only be extended by unanimous agreement of the 27 member states and with European Parliament consent.

M is for MAFF. Bring it back? Go to Business, Innovation and Skills Dept? Stay with environment? See 'C'.

N is for no UK negotiators. The EU employs 500 trade negotiators. We need some and quick.

O is for opportunity as seen through our options paper and available this month see 'T'.

P is for politicians that failed to listen to the people. We won't be making the same mistake, the NFU will be listening to its members refer to 'C'.

Q is for questions. I'm afraid we won't know all the answers, but together the NFU will find them.

R is for regulation bonfire.

S is for second referendum – sorry, that ship has sailed.

T is for taskforce that the NFU has set up and will deliver a domestic agricultural policy options paper on 27 July to guide members in 'C' above.
U is for uncertainty that will last well beyond two years see 'L'. At this stage the Commission appears to be saying that only after withdrawal will negotiations on trade and access begin.

V is for vigilance. Our Brussels office remains open for business.
BPS and Rural Development will continue for at the very least another two years. It's vital we participate in the greening simplification talks in 2017 and build and maintain relationships with other European farming unions, so we know what our competitors are doing.

W is for WTx!? – heard in circa 16 million homes when they woke up to the referendum result.

Y is for young farmers' suggested new domestic agricultural policy: access to technology and land; fair prices; imports to Red Tractor standard and support payments only available to those under 50 years of age.

Z is for zag – a sharp change of direction on a zig-zag course. What better way to sum up where we find ourselves – the NFU is here for you...