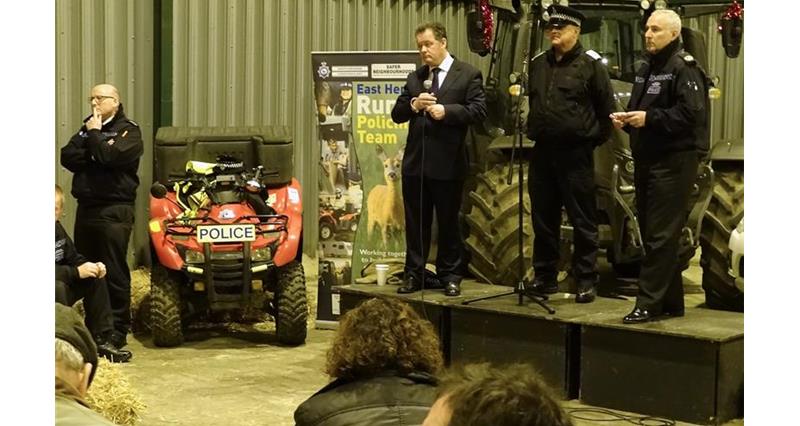 Farmers turned out in force to raise rural crime concerns at East Herts Police's annual barn meeting.
More than 100 people packed into NFU member Scott Findlay's barn at Stanstead Abbotts to hear from, and question, Hertfordshire Police and Crime Commissioner David Lloyd, Assistant Chief Constable Bill Jephson and other senior officers.
Police manpower was a key issue, with farmers worried that there were fewer officers on the rural beat in the East Herts district, an area that covers 184 square miles.
But David Lloyd said claims that Hertfordshire Police had lost officers was incorrect. The police service was actively recruiting and, if a proposed council tax rise of £24 per household was approved, the additional money would support frontline officers as well.
"Clearly the pattern of crime is changing. People talk about knife crime being a serious issue. It is an issue but let's put it into context," he said.
"We're not in the wild west. We're not finding that people are dying on the streets, as they are in the metropolitan area. We're having to do something about it, but it isn't the case that Hertfordshire is the same sort of place as London."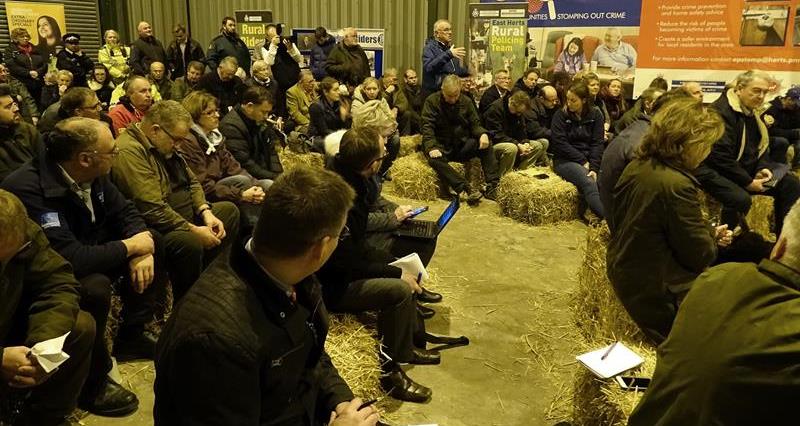 During the meeting, landowners spoke about the intimidation used by hare coursing gangs and by hunt saboteurs. The Assistant Chief Constable promised to investigate one of the incidents raised, concerning a slow police response to a 999 call after gang of masked protestors invaded a livery yard.
Mr Lloyd added: "I understand that people are worried about being on their own when hare coursing is taking place - the threat of intimidation and people coming onto your land and doing what they want. That's the area we have to get right.
"You should be able to live peacefully on your own land without worrying about what other people are doing."
Other issues raised included delays in answering non-emergency 101 calls, the impact of fly-tipping and whether the police had enough resources to cope with population growth in Hertfordshire.
Farmers thanked Sergeant Duncan Wallace, the lead rural crime officer in the East Herts district, and his team for their efforts on behalf of the rural community.
In return, Sergeant Wallace stressed the importance of reporting all crime, so adequate resources could be allocated to tackling it.
"If crimes are occurring, don't complain about it months later if you haven't bothered to report it. We can only build an accurate picture of crime when we know what's going on," he said.