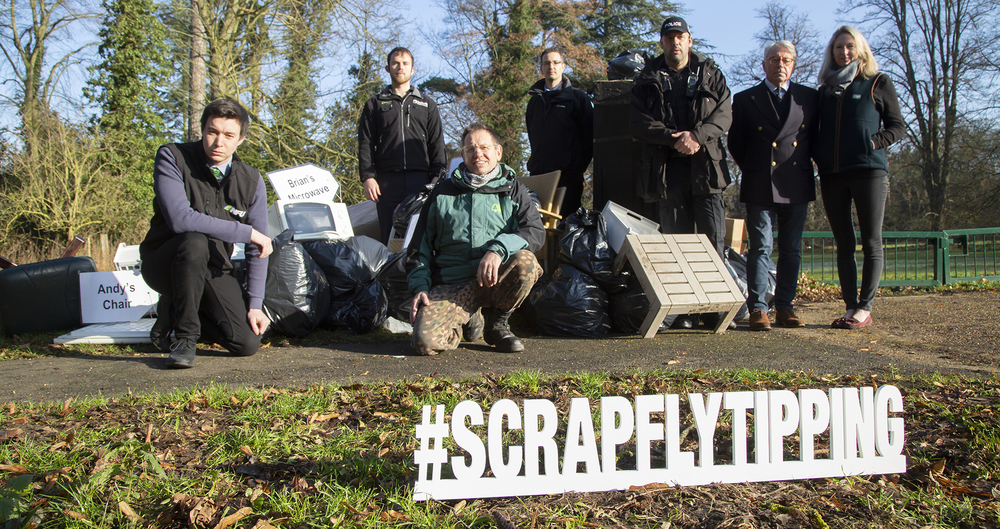 Suffolk has become the latest county to launch the #SCRAP fly tipping campaign, which urges the public to dispose of their waste safely to protect the countryside.
Last year there were 3,496 incidents of fly tipping reported to councils in the county, which cost taxpayers and landowners hundreds of thousands of pounds to clear. Incidents ranged in size from a few bags of household waste left on street corners up to tipper loads of industrial waste discarded in the Suffolk countryside.
The true figure for fly tipping incidents is significantly higher, as the figures do not include waste dumped on private land, which the landowner has to remove at personal cost.
The SCRAP fly tipping campaign is aimed at residents and businesses whose waste is sometimes fly tipped by unlicensed operators. It aims to remind people that they should only allow licensed waste carriers to take waste away for them.
The campaign brings together all of Suffolk's councils, along with the NFU, Environment Agency, Suffolk Constabulary, the Forestry Commission and the CLA.
NFU County Adviser Charles Hesketh said: "We welcome this initiative.
"Fly tipping is criminal. It is harming Suffolk's beautiful countryside, posing a danger to wildlife and livestock and costing farmers and landowners time and money to clear away."
Peter Stevens, chair of the Suffolk Waste Partnership, said: "Fly tipping is a blight on our local environment. This campaign will help us inform householders and others about their duty of care to prevent waste ending up in the wrong place."
The campaign reminds people to ensure they only allow licensed waste carriers to take waste away. This can be checked by asking to see their waste carrier licence, by looking up the company on the Environment Agency website or by calling 03708 506 506.
NFU advice for landowners on how to deal with fly tippped waste is available here.