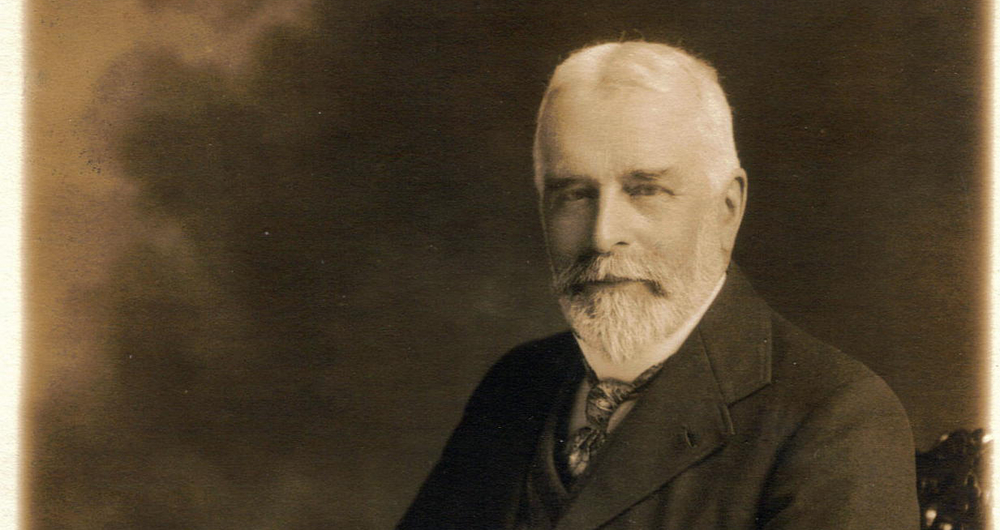 As NFU Norfolk's 100th county chairman, Nick Deane, nears the end of his term, fascinating information has emerged about the first person to take the role.
William Johnson Eagling served as county chairman in 1919, during a long and distinguished farming career.
Information about his life and times has been supplied by his great grandson, Geoffrey Eagling, who originally contacted the regional office for a photograph of Mr Eagling's name on the NFU Norfolk honours board.
Geoffrey said: "My great grandfather was a man of great industry. He was successful as a farmer and an outstanding public servant. He was a strong advocate of introducing scientific methods in connection with farming and was an original member of the Norfolk Agricultural Station."
William Johnson Eagling was born at Willow Farm, Southburgh, on 21 October 1848, the only son of Thomas and Susannah. Johnson was his mother's maiden name.
He was educated at Hingham Grammar School and married Eliza Matthews Barnard, the daughter of Alfred and Elizabeth of Southburgh, in October 1876.
The new couple's first home was at High House Farm followed by Manor Farm, both in Southburgh, and after their third child was born in 1880, the family went to live on another farm, Gresham Farm in Hardingham.
In 1884, they moved once again to White Lodge Farm in Little Ellingham and the family spent the next 30 years on the mixed farm, which included a dairy herd, pigs, working horses, ducks and one donkey.
During the First World War, Mr Eagling was chairman of the Norfolk County Forage Committee.
Geoffrey said: "He was the first member of the family to buy a car. He bought the car new in 1915, a five-seater Buick, with soft fold hood. He was heavily involved in wartime crop production and this involved a lot of travelling, hence the reason for the car. He sold the car in 1925 at the White Lodge Farm auction."
He held many roles in public life, among them school governor at Hingham Grammar School, steward to Watton Agricultural Show, secretary of the Norfolk branch of the Farmers' Benevolent Institution, chairman of South Norfolk Conservative Association and chairman of Ellingham Parish Council School Board. He was a keen churchman, and was a warden at Little Ellingham Church from 1890 to 1925.
"After the war, things were difficult for farmers and most others, and after six years of continual financial problems, he decided to retire," said Geoffrey.
After selling the farm, Mr Eagling moved to Park Lane, Norwich, taking on the role of churchwarden at Holy Trinity Church. He died, aged 84, on 5 June 1933.
NFU Norfolk County Adviser John Newton said: "It was fascinating to find out about NFU Norfolk's first chairman, including the part he played in helping to feed the nation during the First World War.
"So much has changed since then but farmers still fulfil the incredibly important role of providing our food.
"We owe a debt of gratitude to Mr Eagling and his fellow farmers. They founded an organisation that has since gone from strength to strength, and the work the NFU undertakes to support its members is equally important today as it was 100 years ago."
More information about NFU Norfolk's centenary is available here.