Farmers were urged to put safety at the top of their agenda before combines started to roll across East Anglia.
Making time to think safety should be a key part of harvest preparations: a message that was strongly re-iterated at a series of NFU on-farm workshops across East Anglia in June and July.
At the Essex workshop, NFU Deputy President Guy Smith described the least enjoyable part of his job, reading the fortnightly update from the HSE on farm safety incidents. On average, a farm accident causes a death every nine days.
Every incident or fatality affects far more than the individual – their family, their work colleagues their friends, and all those who recognise that it could have happened to them.
About 550 farmers and farm workers attended the workshops, during which the attendees split into smaller groups to go round a series of presentations.
So what were the key messages from the workshops?
Staying safe on farm is all about prevention. Farmers need to be aware of the risks in their place of work, know how they can minimise or remove that risk and then find the time to implement the changes they have identified.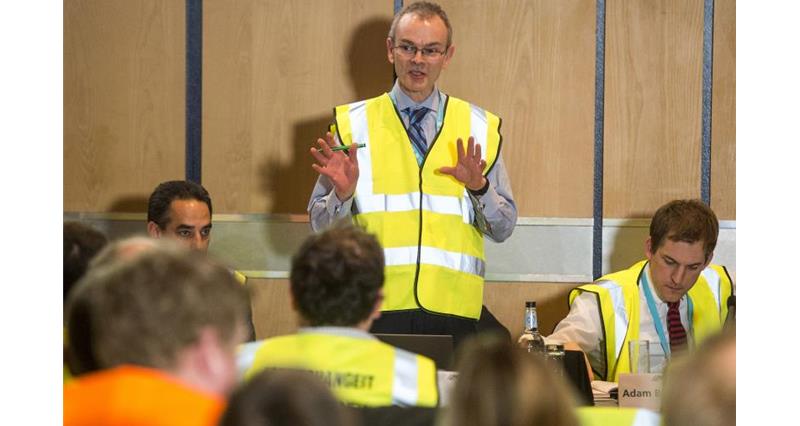 Working from the NFU headquarters in Stoneleigh, NFU Farm Safety Specialist Tom Price hears about many of the on-farm accidents that occur each year.
He stresses that trying to save a few minutes is a major cause of incidents, so making sure time is taken to share safety information with staff and contractors is a key first step.
When communicating during harvest, or at any other time, ensure that drivers are hands-free. If not, put the phone away.
Penalties for holding mobile phones when driving have recently been increased to six points and a £200 fine.
In addition, modern tractor cabs have great visibility, so it is obvious for the public to see when mobiles are being used in your machines.
Since 2015, road travel has benefited from the increase in legal tractor speeds to 40kph and the increase in the combined tractor and trailer weight to 31 tonnes, with a maximum trailer weight of 18.29 tonnes.
To match this, efficient trailer brakes are essential. Good maintenance will be required to ensure brakes continue to perform as they were designed, and records need to be kept of maintenance schedules so you can show what you have done if challenged.
Attention to safety continues back in the farm yard, where vehicle movements escalate at harvest.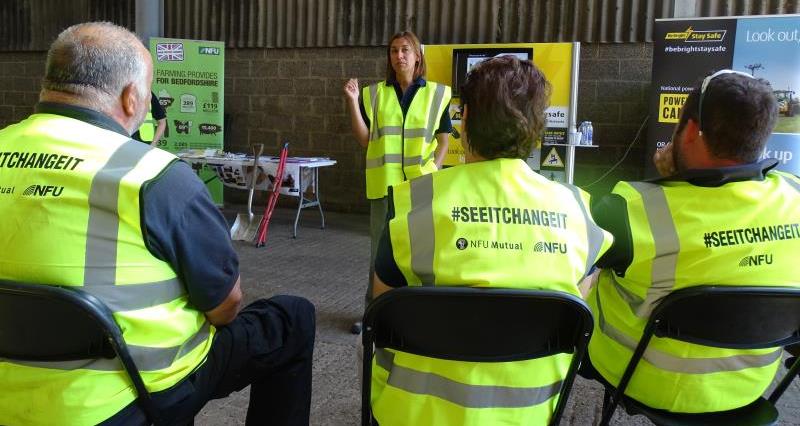 Farmers should adopt the Safe Stop procedure of engaging the parking brake, putting controls in neutral, switching off the engine and removing the key from the vehicle before leaving the cab.
It may be seen as a hassle, but 40 people being run over by farm machinery in the past decade indicates that it makes sense. It is also vital to always wear the tractor seat belt.
UK Power Networks attended the workshops to highlight the dangers of working near power lines.
Accidents involving the power cable network claim one victim a year, with more than 1,200 additional near misses.
Poles and wires are a familiar part of the landscape, so it is easy for complacency to slip in, as they become features you take for granted. Underground cables carry similar dangers.
Farmers and landowners should map their network and share the information with staff and contractors. This should ensure people do not carry out risky activities or store items like straw or muck heaps within 10 metres of cables.
Secondly, place a 'Look Out, Look Up' sticker in each cab, including the UK Power Networks reporting telephone number: 105.
In addition to protecting family and staff, good risk management makes excellent business sense. It focuses attention, supports accident prevention and mitigation and increases confidence of all those working on the farm.
While the regional farm safety events concentrated on pre-harvest safety issues, other risks like children in the farm yard and working at height need to be considered.
The NFU's online Farm Safety Hub provides further information on the law, guidance from the HSE and practical advice from NFU experts. This will help everyone stay safe around the farm – for this harvest and the harvests to come.