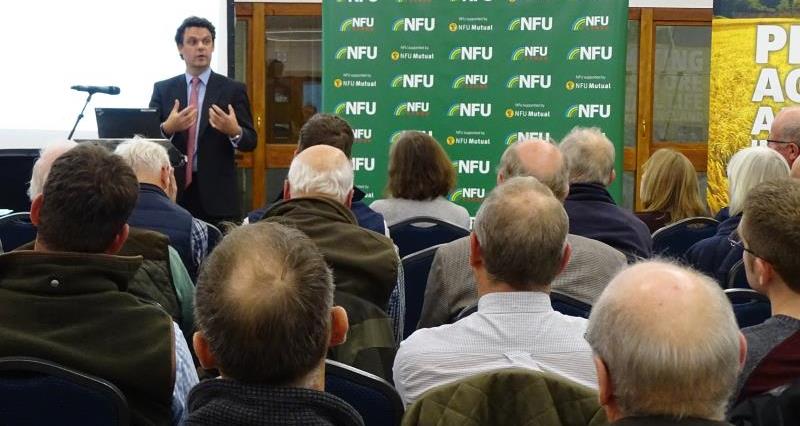 Farmers should be taking action now to start preparing for business after Brexit, a meeting heard last night (Wednesday 18 October 2017).
AHDB senior analyst Sarah Baker said adopting a 'wait and see' approach to Brexit was a high-risk strategy. There were measures that farmers could take now to mitigate the effects of Brexit, such as benchmarking to see how they compared with other farm businesses.
She was speaking at East of England Showground, Peterborough, at the first of 18 Brexit roadshows organised by the NFU and AHDB to update farmers on the political and economic outlook for the industry after the UK leaves the European Union.
More than 100 farmers attended the meeting on Wednesday 18 October, organised with East of England Agricultural Society. They were briefed on the latest analysis from AHDB, which models how different sectors could be affected in a post-Brexit world.

They also heard from NFU Director of EU Exit and International Trade, Nick von Westenholz, who presented the NFU's latest thinking on the development of a domestic agriculture policy aimed at helping farmers to mitigate volatility, enhance productivity and to deliver environmental benefits post-CAP.

Mr von Westenholz said there was still a huge amount to be decided in a short period of time and the NFU was working hard, with other organisations, to influence Government thinking.

"Devising policies that can maintain a relative amount of stability for businesses is absolutely critical," he said.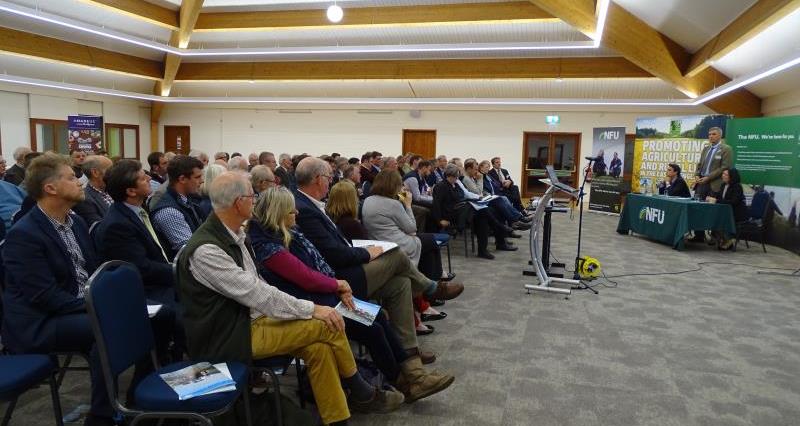 The NFU is suggesting that a future domestic agricultural policy should be built around three constituent parts of agricultural productivity measures, volatility mitigation measures and environmental measures.

"All of these complement each other. They are more than the sum of their parts. Farm businesses should be able to draw down bespoke assistance from across a range of measures within each of these cornerstones," he said.

Crucially, the NFU is also suggesting a transition period to avoid radical changes occurring immediately after the UK leaves the EU in 2019. This would replicate CAP for the first two years, with minor adjustments, while allowing time for an impact assessment of how farming will be affected by withdrawal.

This assessment would dictate the pace at which the industry moves from the current system of farm support to a new domestic agricultural policy.

Sarah Baker described Brexit as "possibly the greatest challenge I have seen in my career". She briefed farmers on AHDB's impact assessment, which looks at how different farming sectors could be affected under three different post-Brexit scenarios. The scenarios modelled were:
Evolution: 'business-as-usual', with trade arrangements staying much the same and support payments continuing.
Unilateral Liberalisation: with reduced subsidies, migrant labour restrictions and tariff-free access to the UK for foreign producers.
Fortress UK: a 'cliff-edge' Brexit with trade based on World Trade Organisation rules, and tariffs alongside a big cut in subsidies.
Changes in the UK's trade relationships would impact on farmers' bottom line when the UK leaves the single market, whether or not a free trade agreement is negotiated with the EU. There could be substantial falls in farm incomes for most sectors in scenarios two and three.
However, Ms Baker stressed the scenarios were not intended to predict or describe actual outcomes of the Brexit negotiations. Their purpose was to capture the range of possible repercussions.
"It's really important that the industry understands the challenges and is aware of the potential pitfalls as well," she said.
"A key message is that the top 25% of performers in all sectors, regardless of size, remain viable in all our post-Brexit scenarios."
NFU East Anglia Regional Board Chairman Will Dickinson, who chaired the meeting, said: "We've heard a lot of information tonight. Please think about it and share the information.
"Yes, there will be challenges right across the economy but there will be opportunities as well and we should be ready for them."