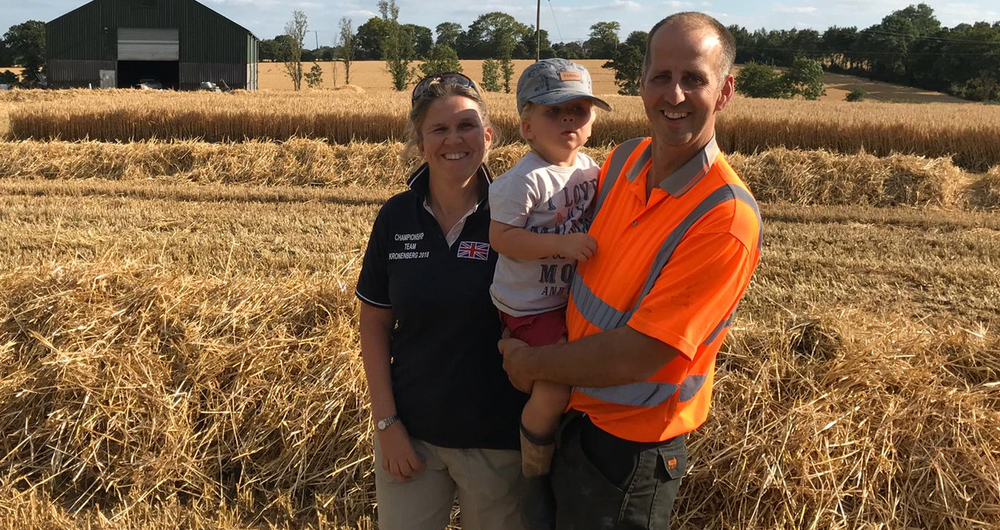 Hertfordshire's new NFU county chair is urging farmers to champion their industry and help build public support for agriculture.
Gordon Paice says the development of new farming policies after Brexit will bring challenges but also opportunities for the county's farmers, and it is vital to take every opportunity to explain what British agriculture delivers.
"Public perception of agriculture is hugely important, particularly in Hertfordshire, where we have lots of farms close to urban areas. We need to engage with the public and show them how farmers are looking after the countryside and producing their food," he said.
Gordon has spent the past 11 years working as farm manager for Gilston Crop Management, a joint venture farming operation based at Much Hadham. He is responsible for agricultural operations across 4,500 acres, with crops including cereals and sugar beet.
He comes from a farming background - his father Sir James Paice served as farming minister from 2010 to 2012 – and always wanted to be a farmer. After graduating from Writtle College in 1998, he worked on a farm in California before returning to the UK.
"Farming is all I have ever known and I love every day. I look forward to it and I enjoy the challenge. I certainly didn't consider a career in politics – I have seen how that takes over your life!" said Gordon.
Although day-to-day farming operations have been largely unaffected by Covid-19, the pandemic has brought other challenges, with many more people out and about in the countryside and all NFU meetings held online.
"We're very lucky that we have a lot of footpaths. They have seen more traffic on them, which has raised some issues, but it's good for people to get out and about and see what's happening in the countryside and how farmers look after it," said Gordon.
"There are also some positives to take from how the NFU has communicated with members during the pandemic.
"I have been to some excellent branch meetings held online. It's different but members have got used to it and it means we can include speakers from all over the world, while farmers can 'attend' from their tractor cab or while looking after livestock.
"I think we've learned a lot from it and we're likely to see a hybrid system in future. There will always be members who want to meet face to face, but others who are happy to continue with online meetings and we'll need to accommodate both."
Gordon is a strong supporter of the NFU's education initiatives. He and wife Lindsey have a five-year-old son, Callum, and during the latest lockdown they record a short video for his school, taking children through wheat's journey from farm to fork.
They have also incorporated farming into his home-schooling, such as counting sugar beet and the number of bucket loads of grain used to fill a trailer.
He says the pandemic has highlighted the importance of broadband and wifi and the need to invest to improve connectivity in rural areas.
"We are just 15 miles from the M25 but some places around here have next-to-no mobile phone signal and poor broadband. That has an effect on rural businesses, and we have to keep pushing government on this," he said.
He is also keen to continue working with Hertfordshire Police on tackling rural crime, including farm thefts, hare coursing and fly tipping.
"The police are facing a lot of pressures from all sides so we need to be constructive in how we work with them. It's crucial that members are reporting crime, as so much goes unreported at the moment. If the police don't know about crime then they can't respond to it," he said.
Gordon takes over as county chair from Jamie Burrows.