The NFU is arranging a series of meetings to help members get to grips with the next stage of the Basic Payment Scheme (BPS).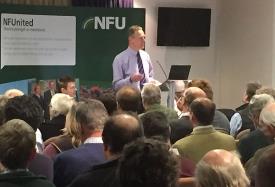 Six meetings are taking place across the region to guide members through the online and paper options that will be available for 2016 applications.

Keith Wellings and Matthew Martin from the Rural Payments Agency will be attending all the meetings to explain the changes in place for this year and to answer technical questions from members.

NFU East Anglia adviser Rachel Carrington said: "We've arranged these meetings to give members early sight of the application process for 2016.

"Everyone hopes it will be less problematic than last year, but it's important that farmers start preparing in plenty of time to meet the expected 16 May application deadline.

"As well as the meetings we will be providing regular briefings to members and doing everything we can to help them through the process."

The meetings take place on the following dates:
1 March, NFU Regional Office, Newmarket, CB8 7SN, 4pm
2 March, Barnham Broom Hotel, Norwich NR9 4DD - 9.30am for 10am start
2 March, Cedars Hotel, Stowmarket IP14 2AJ - 1.30pm for 2pm start
2 March, Northumberland Lecture Theatre, Writtle College, Chelmsford CM1 3RR - 7pm for 7.30pm start
3 March, Wood Green Animal Shelter, Godmanchester PE29 2NH - 9.30am for 10am start
3 March, The Farmschool at Annables Farm, Kinsbourne Green, Harpenden AL5 3PR - 1.30pm for 2pm start
Farmers can book their place by emailing bWVldGluZ3NlYUBuZnUub3JnLnVr" target="_blank">bWVldGluZ3NlYUBuZnUub3JnLnVr with their details including their NFU membership number, or by calling 01638 672100. The latest BPS information can be found on the NFU website.