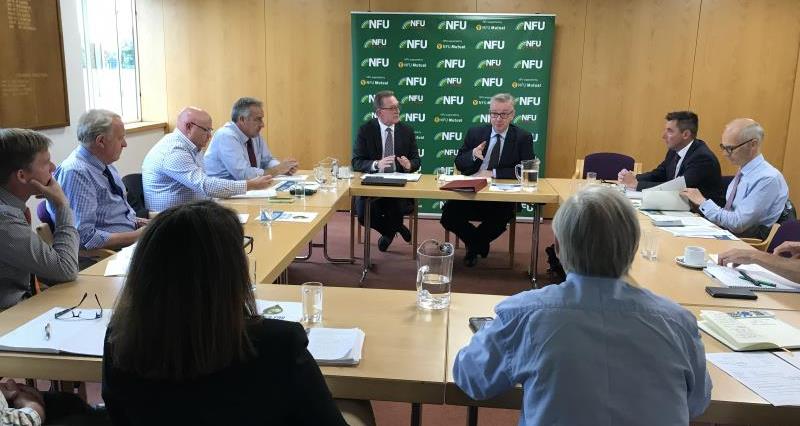 Defra Secretary of State for Food and the Environment Michael Gove was urged to ensure water for food receives a higher priority when he met farmers and farming organisations at the NFU Regional Office in Newmarket yesterday (Friday 7 September).
During a meeting with the Water for Food Group, Mr Gove heard how the agricultural drought had impacted on crops in East Anglia, with some farmers running out of water to irrigate fruit and vegetables.
Farmers thanked the Environment Agency for its response to requests for flexibility on abstraction licences, which had helped some growers secure additional water for irrigation.
But the Secretary of State heard there was a short-term need for greater flexibility, to help those with crops still to harvest to obtain the water they required.
NFU National Water Resources Specialist Paul Hammett, who chairs the group, said: "This was a vital opportunity to discuss the impact of the agricultural drought with the Secretary of State and to stress the need to learn lessons, so we're better prepared for future weather extremes.
"Our farmers deliver remarkably high volumes of top quality of fruit and vegetables to the public, with only 2% of the total amount of water abstracted in England.
"But this year's record-breaking heatwave has highlighted how vulnerable farmers are to dry weather and disruption to water supplies. While households are protected by unrestricted water use, farmers have been in danger of running out of water before crops are ready to harvest."
Mr Hammett said additional flexibility around abstraction licences would be required if warm and dry weather conditions continued into the autumn. There was also a need for longer-term planning to improve the response to future droughts.
"Going forward, we would like Mr Gove to consider how water for food production can be given a higher priority, so its importance is recognised alongside water for domestic consumption," he said.
The Water for Food Group's position statement is available here.