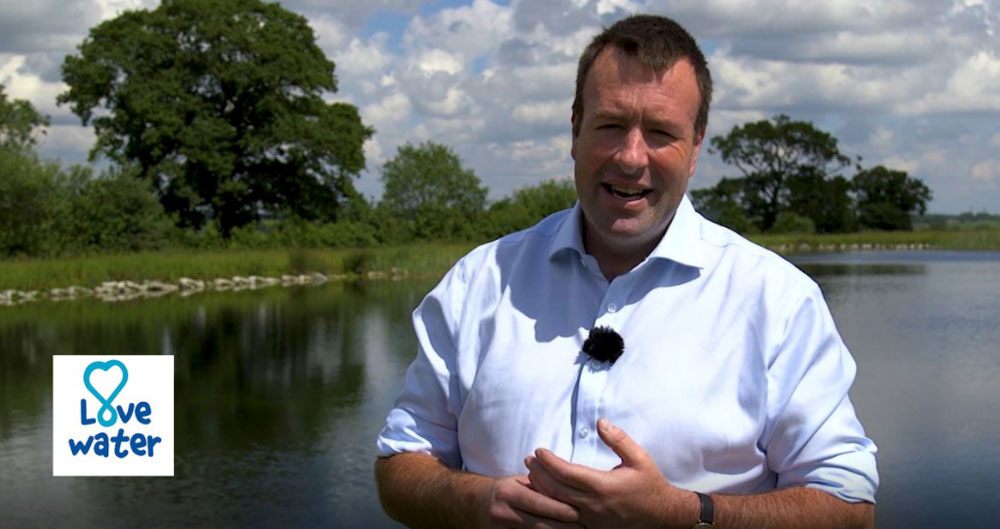 The NFU has joined with 40 environmental groups, charities, water companies and regulators to launch the Love Water campaign to raise awareness of the role everyone plays in protecting water resources.
Clean, healthy and readily available water is essential for health and wellbeing, as well as economic growth, but as the climate emergency and population growth put increasing pressure on the water environment, the UK is facing hotter and drier summers and an increased risk of water shortages.
The Love Water campaign, launched on 31 July 2019, will feature events and initiatives such as beach and river clean-ups and water saving projects designed to engage the public and encourage them to enjoy water and the environment.
The long-term ambition is to call on businesses to make water saving and pollution reduction part of their operational and corporate responsibility targets.
The UK already has less available water than most other European countries and the average person uses a staggering 150 litres per day.
Speaking about the NFU's commitment to the campaign, NFU Vice President Stuart Roberts said:
"Water is fundamental to food production and is absolutely essential to nearly every food item British farmers produce. Water availability is often only talked about during times of flood or drought but we need to raise the awareness of its essential role 365 days a year. It plays an absolutely critical part in delivering safe, traceable and affordable food to the nation."
Sir James Bevan, chief executive of the Environment Agency said:
"Most people agree that water is a precious resource but too often we take it for granted and don't see how our actions have a direct effect on the local rivers, lakes and beaches we all care about.
"Our campaign intends to change that by urging people to use water wisely and to think before pouring cooking oil down the drain or flushing a wet wipe away.
"We know that everyone has a duty to preserve and protect water and the campaign will also work with industry, water companies and other regulators in the longer-term to cut down on wastage."
More from the NFU:

More about the Love Water campaign
Love Water supports the ambition of 'clean and plentiful water' as set out in the government's 25 Year Environment Plan and focuses on three key themes:
• Encourage people to use water wisely
• Help people to understand how they can reduce pollution in their local environment
• Encourage people to get out and enjoy their local water environment
The government's 25 Year Environment Plan sets out an ambition to reduce individual water use – on average 150 litres per person each day - by working with industry to set a personal consumption target. The Environment Agency will work with the government to set this target and cost-effective measures to meet it.
The full list of partners is:
Environment Agency
National Farmers' Union
Water UK
Ofwat
Consumer Council for Water
WaterAid
Angling Trust
National Union of Students
Wildlife and Countryside Link
University of West of England, Bristol
Affinity Water
British Canoeing
University of East Anglia
The British Natural History Consortium
Waterwise
Sainsbury's
Wildfowl and Wetlands Trust
Refill
The Rivers Trust
RSPB
BinIt4Beaches Partnership
The Blueprint for Water Partnership
Yorkshire Water
Thames Water
South Staffordshire Water
Severn Trent Water
Hafren Dyfrdwy
South East Water
Wessex Water
Anglian Water
United Utilities
Affinity Water
Northumbrian Water
Southern Water
Bristol Water