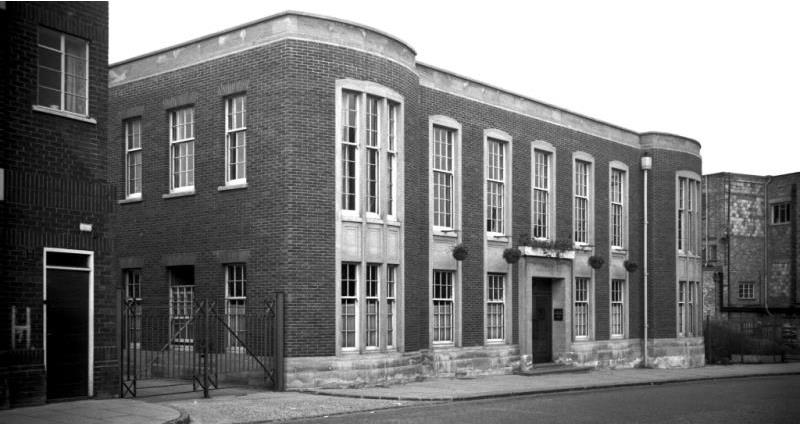 Above: Agriculture House in Ber Street, pictured in 1955
It was essential to find a central location for the NFU's headquarters in Norwich.
Norwich livestock market, then one of the country's biggest, was held every Saturday and the Corn Hall was economically important.
NFU meetings were held on Saturday mornings, when farmers came to Norwich. As the search for a permanent site continued, the county branch rented offices in Prince of Wales Road until 1926 and then above the National Provincial Bank in London Street.
County Secretary Jim Wright played a pivotal role in the planning and raising of funds but finding a suitable location was not easy, until the directors of Bonds department store, now John Lewis, came forward.
On 17 October 1949 it was reported that a site for 'Agricultural House' in Norwich had been purchased from Bonds Ltd for £1,750 in Ber Street, rising to £1,821 with legal fees and charges.
In the immediate post-war years, when materials were in short supply, and even cement was hard to acquire, an official building licence was needed.
The Ministry of Agriculture rejected the original scheme for a two-storey office for the Ber Street site in September 1950, leading to frustration at the lack of progress.
However, a postal vote of executive members rejected buying a large house at Thorpe. The plans were then modified and a scheme using a less-ornate design accepted. This cost about £14,000 of the £15,000 funds available.
Building work commenced and the executive's first meeting was held at Agriculture House on 20 September 1952.
Two gifts were presented to mark the occasion, an inscribed gavel from the architect, A G Berry, and a chairman's table from the National Union of Corn and Agricultural Merchants.
Agriculture House played a central role in the life of NFU Norfolk until regionalisation. It was sold in September 1998, with part of the proceeds going to establish the Norfolk Farmers Trust.
Find out more about NFU Norfolk's first 100 years by clicking on the links below: