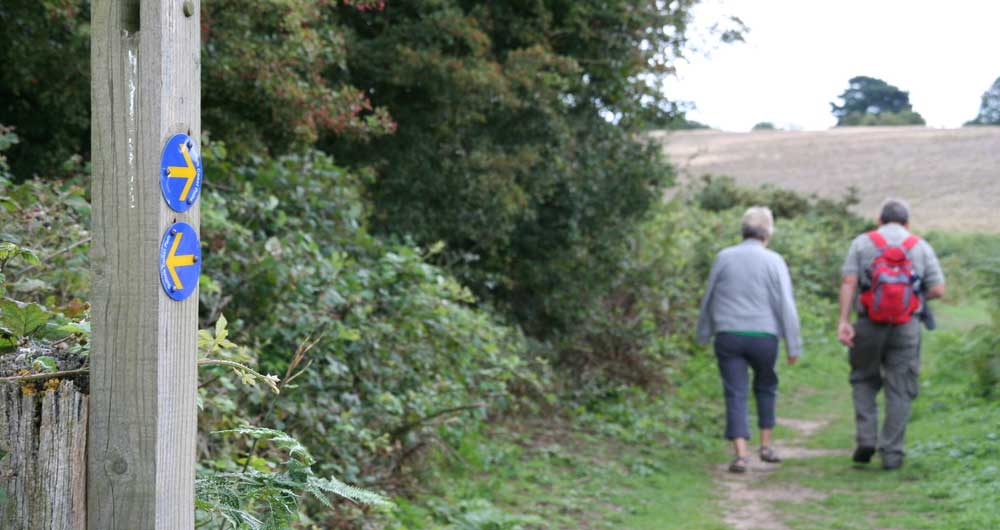 Enjoy the countryside, but please follow the rules is the message to the public from farmers as restrictions continue during the coronavirus outbreak.
NFU East Anglia is urging anyone using public rights of way to maintain social distancing requirements, especially when walking near or through farmyards, to follow the countryside code and to keep dogs on leads near livestock.
With other areas of the countryside now effectively closed to the public - including country parks, RSPB reserves, stately homes and gardens - farmers have seen significant increases in people making greater use of footpaths instead.
NFU Adviser Rosalind David said: "We all recognise there are multiple health and wellness benefits to getting out and enjoying the countryside but it's absolutely vital we heed the official guidance during these difficult times.
"The Government has introduced new powers to reduce social gatherings and limit outdoor pursuits and these should be followed. Keeping to the rules will help protect all of us, including the farmers who are working so hard to produce our food, and their livestock."
The NFU is asking people to remember that farms are also places of work and that many farmers are older, with some among the 1.5 million people identified at being of greater risk of covid-19. Its county advisers are liaising with local authorities with responsibility for public rights of way across the region, including Hertfordshire County Council and Hertfordshire Constabulary.
Sergeant Ryan Hemmings, who heads up Hertfordshire Constabulary's Rural Operational Support Team (ROST), said: "As per our normal daily business, we are maintaining regular contact with the National Farmers' Union and are aware that a number of concerns have been raised by farmers.
"Being considerate and reducing risks at this difficult time will make a real difference and help support our farmers, who are working to keep the food coming through to the shops.
"If you are walking your dog in rural areas, please ensure it is kept on a lead when passing through a field with livestock in and ensure you are adhering to social distancing measures.
"Our officers will be out and about ensuring people are aware of the advice put in place by the Government, to help stop the spread of the virus, support the NHS and save lives."
He added: "Policing is continuing as normal at this time and if you witness any suspicious activity near livestock or farm buildings, please report it to police as usual, dialling 999 immediately if a crime is in progress."
Executive Member for the Environment, Cllr Phil Bibby said: "Hertfordshire County Council asks anyone going into the countryside for their one permitted form of outdoor exercise per day to stick to signed public rights of way local to you.
"You must also comply with the social distancing guidance by only going out with those in your household and staying more than two metres from others.
"Please respect those who live and work in the countryside. To help you find these footpaths and bridleways the Herts rights of way network is now on Googlemaps."