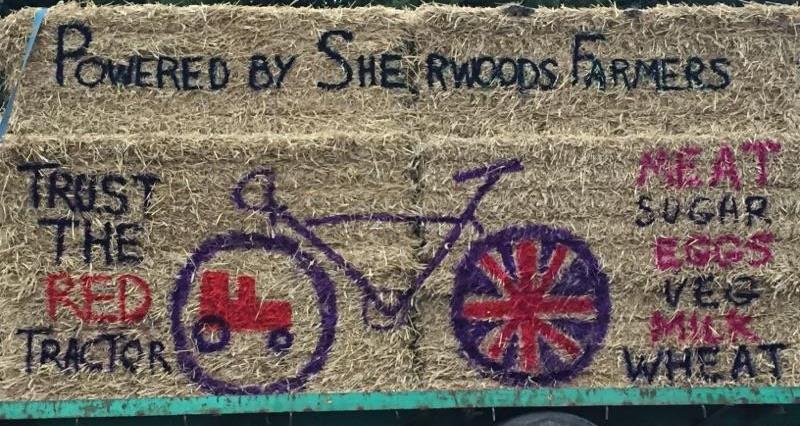 Nottinghamshire's farmers are showing their support in different ways as the round-Britain cycle race Stage 4 travels the 165 km route through the county. As they do, they'll pass through some of England's most beautiful and productive farmland as the race wends its way from Mansfield to Newark.
But there was a special stunt laid out on a field near Coddington, Newark, this afternoon (Wednesday 6 September) as the Tour of Britain's stage through Nottinghamshire went by at 40kph…
Coddington, farmer Des Alan had the ingenious idea of training his sheep to form the outline of a bicycle and with the help of Donnington, Boston farmer, Chris Wray, the "land art" was filmed from the air.
Watch from above as the sheep performed...
NFU County Adviser, Andy Guy, helped to lay out the shape of the bicycle in healthy and nutritious sheep nuts and farmer Des trained the sheep, who were "bribed" to stand and eat the feed whilst Chris filmed them from above.
Andy Guy, said: "We wanted farming to be involved in the Tour of Britain and scratched our heads about what would work. September is an incredibly busy time of year for farmers, but we've persuaded some of them to join in and show our industry's support for the cycle race.
"Des came up with the brilliant idea to lay out the shape of a bicycle in sheep feed. He knew he could train the sheep to follow him – they're notoriously fond of sheep nuts and will do most things for a nibble!
"Nottinghamshire's farmers are busy all year round producing great food for the nation, and cyclists know the benefits of a healthy diet. They'll be choosing milk as a re-hydration aid, fruit and vegetables for a healthy digestion and protein-full meat and pulses for muscle growth. So it's natural and right that our farming industry supports the cyclists racing past Nottinghamshire's farms and fields."
As well as the sheep "stunt" at Coddington, farmer Oliver Collingham has created a farming sculpture at his Farnsfield farm. Together with neighbour George Weaver, a tractor "mobile" was built on the morning of the race.
You can watch as Oliver constructs the sculpture, on his Facebook site, here.
Andy Guy added: "NFU's #BackBritshFarming campaign banners have been proudly displayed "front and centre" along the route, too. I don't suppose that the riders will have time to appreciate them, but we hope that the spectators see them and see how proud farming is to support the Tour of Britain as it travels through our county."
Click through the gallery, above, to see some of the banners around Nottinghamshire.