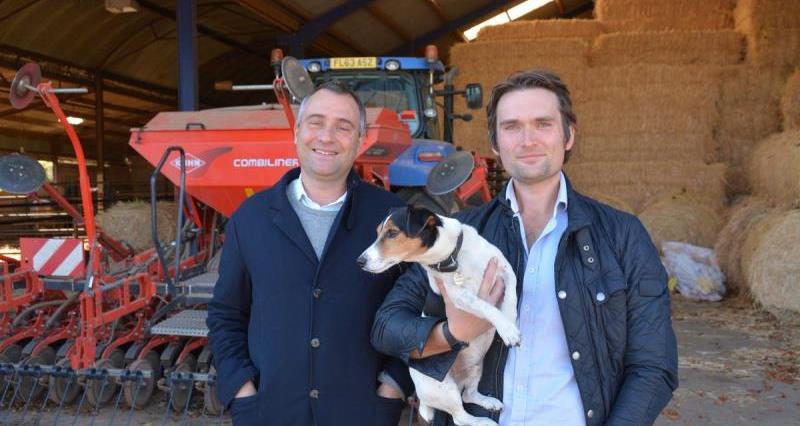 A Leicestershire farmer says he hopes to have planted the farming message in the mind of a major environmental figure after persuading him to pay a visit.
Following a concerted Twitter campaign, Joe Stanley managed to convince the prominent and staunch environmentalist Ben Goldsmith to travel from London to his family's arable and beef farm near Grace Dieu.
Mr Goldsmith, son of billionaire environmentalist financier James Goldsmith and younger brother of politician Zac Goldsmith, is known for his controversial views on farming's effect on the environment, particularly his outspoken opinions aired on Twitter.
And his role as one of Michael Gove's and DEFRA's key advisers makes the visit something of a coup for the farming industry.
Read more: Packed room for NFU East Midlands' Brexit conference
"Back in March he was appointed by Gove to one of the non-executive director posts and many people didn't know who he was. But when you delved down it was clear that, from a farming point of view, it wasn't ideal because he had very strong bias already," explained Joe.
"He had written an article which was very biased against modern agricultural practice with some very sweeping statements, so I wrote a letter to the secretary of state asking him to justify why he might have appointed this chap to oversee the biggest change in agriculture, raising concerns that he might not be an impartial arbiter.
"When I didn't receive a reply, I stuck it on Twitter asking why they didn't respond and Ben Goldsmith replied to that."
The pair got into a conversation on Twitter and Joe invited him to visit what he calls "an average, mixed lowland farm" to come and see for himself if the reality matched what he had been writing about.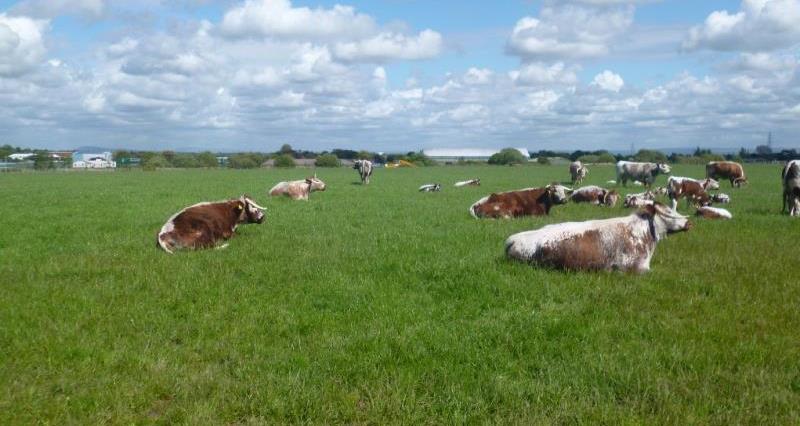 Longhorn cattle like these are a key part of the Stanley family's farm in Leicestershire
Finally he came out to the Stanley's farm in late October to have a look around and it became clear that his Twitter persona was very different from the real Mr Goldsmith.
"He was much more reasonable, measured, balanced and open to conversation than his media output had been like," said Joe.
"As I was showing him around, one of the main things I wanted to tell him was even though we're not part of any countryside stewardship scheme – we came out of ELS three years ago – there is still huge space for nature on an average farm.
"It was because of some of his writing had made out that the British countryside was sterile and blighted by modern agriculture, which is incorrect. On every farm there is a huge amount of nature.
"I also pointed out the knock-on effect of certain policies, like if you ban neonicotinoid dressings for cereals then you're just going to go out and spray more insecticides.
Read more: NFU president on tour in East Midlands
"He was very keen to agree that food production is absolutely vital and it can't be run down because of the environment. He repeatedly agreed that food production is incredibly important."
Joe was focused on what information he could furnish Mr Goldsmith with during the tour to drip feed the farming message to him.
"If you ask most farmers what's the single comment that the secretary of state has made since coming into office that sticks with them, it was when he described the countryside as being 'soaked in chemicals' and that was a line very much in tune with what Ben Goldsmith had been writing about. This is not an accurate interpretation of what's happening and I wanted to get that across to him," he said.
"He was here for about four or five hours and was very charming and non-confrontational. My perception of him hugely improved as a result of his visit."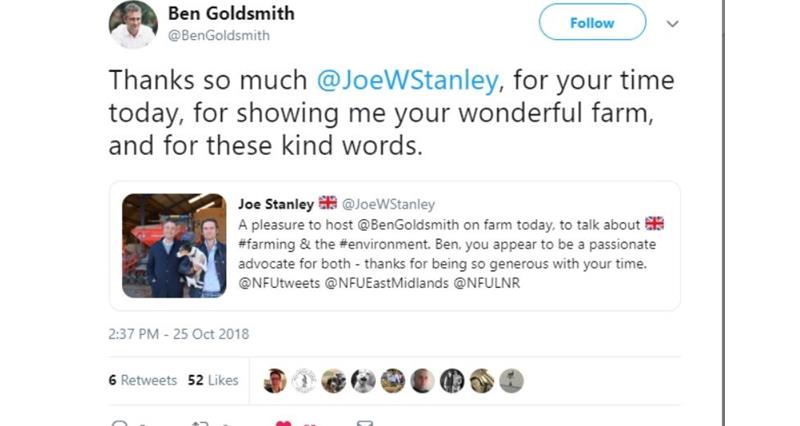 Mr Goldsmith tweeted his thanks to Joe after his visit
They had a walking tour of the farm, with Joe showing him Spring Barrow Lodge's stunning longhorn cattle, the results of a Natural England grant to restore drystone walls as well as the land taken out of production and put into National Forest 20 years ago.
"I wanted him to see that despite us not being in an environmental scheme, we have rows of hedges which are teeming with wildlife," Joe said.
"I also showed him some of our very rocky arable land – the reality of lots of food producing land; we have very little very good British arable land. I told him that lots of food is produced on terrible ground like this. It's the same land that Ben has said he wants to put into rewilding projects.
"He also saw our rape crop which had failed because of the neonic ban."
Joe encouraged members and other farmers to do what they can to coax influential people to do on-farm visits.
"It's so important to expose as many people as possible to agriculture – and not just MPs," he added.