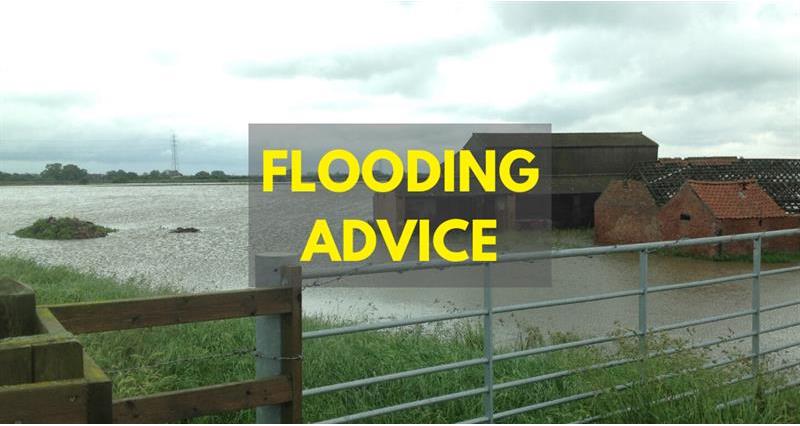 NFU update to Lincolnshire and Nottinghamshire - Nos 2. 14 November 2019
Government announces support for flood hit farmers
At 6.07pm last night (Wed 13 November) Defra announced that flood-hit farmers in Yorkshire and the Midlands will be able to apply for up to £25,000 in government grants to help them get back on their feet. Please find below a link to that press release about the extended Farming Recovery Fund
It does not say at this stage where or who is eligible. Those details will come and we will circulate this in due course. We do know that when the funds were made available for Wainfleet and North Yorkshire the eligible area was tightly drawn around the flood zones.
The NFU has welcomed this announcement however we are equally concerned about the government helping with other measures:
• Help for all those affected by the severe weather we are currently experiencing, not just those flooded
• Getting support payments out quicker – BPS, CS, ES
• Seeking RPA flexibility with the rules on greening where they cannot be met
Reporting flood incidents
As the rain comes down today, don't forget to report flooding incidents to the Environment Agency. The EA incident reporting line is 0800 80 70 60.
Lack of maintenance
I hope you saw the request for information on main rivers so we can illustrate the issues around a lack of maintenance. Current photographs of rivers with silt and weed mid channel including a date and location clearly show, along with pictures of leaking flood banks and where burrowing animals are causing problems. We intend to use this information in a portfolio with the Regional Flood and Coastal Committees and MPs across the area. Please send your examples to ZWFzdC5taWRsYW5kc0BuZnUub3JnLnVr along with your name and contact details.
NFU update to Lincolnshire and Nottinghamshire - Nos 1. 13 November 2019
I don't need to say how wet it is at the moment and for many farmers around the region there are floods to contend with. The Environment Agency (EA) tell us that these floods are the highest recorded on rivers like the Ancholme and Witham so we have some very real issues. In no particular order:
River Trent
Much of the Trent floodplain has been flooded for the past two weeks. We are also aware of tributaries such as the Meden, Maun, Idle and Ryton. Water levels are very high so if members have particular flooding issues then please let us know. A member on the Idle has done just that this morning. On Monday we emailed the EA Incident Room in Nottingham and have not had a reply yet!
Lincoln Washlands
The three Lincoln Washlands have been brought into use in the past week at Aubourn, Branston Island and the river Till. Flood water is stored on the farmland to better protect Lincoln and they are a very good example of farmers practising public good.
Barling Eau
On Saturday 9 November the Barling Eau overtopped and the flood bank breached adjacent to Stainfield Fen. The area is now under several feet of water and has been featured in the press and media. An EA recovery team has been set up to draw up options – temporary or a permanent repair. While the floods are up they cannot access the breach so it may be sometime before it is repaired. We are told that calling in the chinnooks is not an option. At least four farms are affected and the NFU is in touch with all of them (including those who are not members) One poultry unit was destocked underweight on Friday and it is now flooded. Water levels in the area rose by 2 foot as the Till washland was emptied on Tuesday to make space for more water later this week. A dedicated member of EA staff has been designated to liaise with the farmers in this area. A key priority is to get the breach plugged and water levels drawn down quickly.
River Witham
Most of the Witham below Lincoln is on red alert and will remain so while the threat of more rain exists. Flooding along the valley between the Barling Eau and Bardney has taken place. Many tributaries of the Witham are in spate, and we have had a small breach on the Dorrington Catchwater for the past month. We have a meeting of farmers around that area next week to review the situation. All river and flood banks along the Witham and the east and west fens are fragile and under pressure and under constant monitoring. That is similar across the two counties. Some members are taking videos of flooding and breaches off river banks. This is very dangerous.
Ancholme
Flooding on the eastern side of the river Ancholme has been happening for several weeks with large areas of farmland flooded. The river overtopped in the Bishopbridge area and has found its way back to the old channel going north, and tried to re-enter the main channel around Brandy Wharf. Livestock issues in this area were identified as 400 cattle and 8000 pigs are at risk. NFU have asked the EA to introduce pumping capacity to help drop the flood water and help deal with a potential welfare issues.
NFU/EA Liaison
Unlike the EA Nottingham incident room, we have established good liaison with the EA Lincoln incident room, so the following details are up to date. We have many rivers on amber alert and also red alert where flooding is expected. We will be taking part in the daily flood advice service telecom and named EA staff can help with issues. We are therefore encouraging members to contact the regional office (01572 824250) so we can log the issue, decide its priority and escalate as appropriate. Members must also tell the EA about incidents so we advise you to ring the details into the EA on 0800 80 70 60. If it is not reported then they may not know about it?


Meetings going forward
Once the flooding event is over there are many questions raised by this episode. We will be organising an event in each county to discuss this and decide what representations we need to make for any reviews that are held and what local policy should be going forward. We will advise all members of the dates for this in advance.
Maintenance of watercourses
Many members have flagged up poor or a lack of maintenance in main rivers around the counties as a prime reason why overtopping and breaches happen. The principles are clear – how can a river or drain be fit for purpose if the water is not allowed to get away efficiently and capacity is reduced? At NFU East Midlands region a decision has been taken to develop illustrations of where this is an issue on EA main rivers. We are asking members to send us dated photographs of weeds and silt issues in mid channel along with the accurate location and a brief narrative. We also want to see pictures (dated and location identified) of flood banks where burrowing animals have left holes that need repair by the EA. We intend to use this information with the Regional Flood and Coastal Committees and MPs across the area. Please send your examples to ZWFzdC5taWRsYW5kc0BuZnUub3JnLnVr with your name and contact details.
RPA flooding advice
We are asking the Rural Payments Agency to update its advice to farmers about BPS and agri-environment support schemes where flooding is involved. We have raised issues like the three crop rule and derogations. Discussions continue at national level. Keep an eye on news and information on www.nfuonline.com
Assistance
The RABI are highlighting that they can help farmers affected by floods with emergency grants of up to £3000 that are available for farming families who find themselves in need due to flooding when their domestic finances are under strain as a result. Contact the RABI Helpline 0808 281 9490.
Forage Aid can help provide forage and/or bedding for livestock farmers who have been affected by the floods. Anyone who has lost forage through the flooding can contact Forage Aid for assistance on: www.forageaid.org.uk, Email: aW5mb0Bmb3JhZ2VhaWQub3JnLnVr Helpline: 07967 219991
• Lincolnshire Rural Support Network – 0800 138 1710
• Nottinghamshire Rural Support – 0800 138 1710
• NFU CallFirst: 0370 845 8458 (8am - 6pm: Monday to Friday)
The NFU Adverse weather, water and flooding toolbox has loads of useful links for members affected - have a look here
Further Advice for members affected by flooding can be found here, which includes advice for dealing with flooding on your land as well as details of some of the work the NFU is doing to help ease the pressures farmers are facing in the current weather conditions.
Weather forecast
It has been widely trailed and the weather map (which I dare not show you) for tomorrow shows more rain to come and for the weekend as well. Flood warning are out and you can see what is happening in your part of the county here
Stay safe, and done go on flood banks