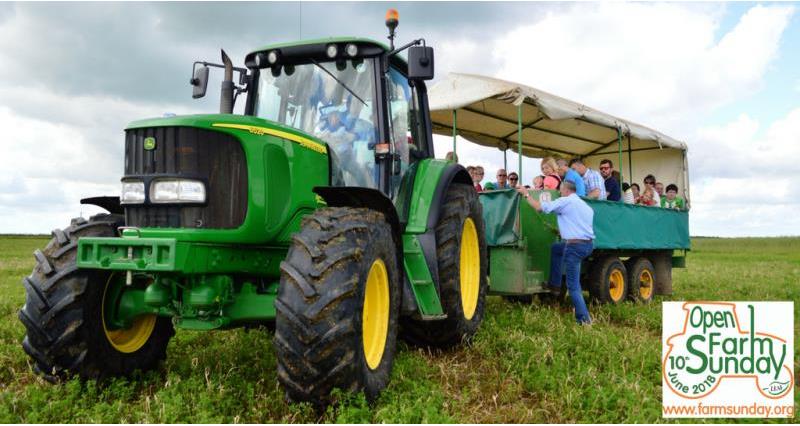 Next weekend is the thirteenth annual celebration of British food and farming, Open Farm Sunday, a day when farmers open their gates wide to welcome everyone to see where and how our food is produced.
The nationwide initiative, on Sunday 10 June, aims to get families, children and young people out onto farms and learning about where their food comes from, how it is grown and meeting the farmers who produce it. From how farmers grow crops for food, clothes and medicine, conserve energy and protect precious resources like soil and water, to how and why they use science and technology to farm sustainably and all they do to care for wildlife and the environment.
In the East Midlands, 46 farms will be opening to the public to help celebrate everything that's great about our farming, whether that's growing wonderful food, looking after fantastic farm animals or caring for the countryside.
The farm events are free to enter and you'll find a huge variety of businesses happy to show you around, from large scale arable and potato growers to smaller family livestock and dairy farms; ice cream makers, farm shops and education college farms are ready to welcome you on Sunday, too.
Regional communications adviser, Alison Pratt says: "Farms all over the East Midlands are opening next weekend, so there'll be one close to you, or make a day of it, take a picnic and visit a county you haven't been to for a while – there's so much to see and do in the countryside at this time of year.
"A visit to a farm can be an incredible experience for a child – it's a great way for them to learn more about food, farming and the wildlife that lives with us in the countryside. Sunday 10 June provides the ideal opportunity to get out into the countryside, breathe some fresh air, find and taste fantastic local food and enjoy new experiences.
"Organised by LEAF (Linking Environment and Farming), the thirteenth annual campaign is supported by a wide range of organisations including Asda, M &S and Tesco, Arla and Defra and lots of farming organisations including the NFU," adds Alison. "We're all keen to show you how food is produced and how farmers look after the countryside, so please come along and join the hundreds of thousands of others who'll be having a great Open Farm Sunday.
"Find a farm to visit at www.farmsunday.org, just click on "visit a farm" and choose where you'd like to go. We guarantee you'll have a fabulous day out wherever you choose!"