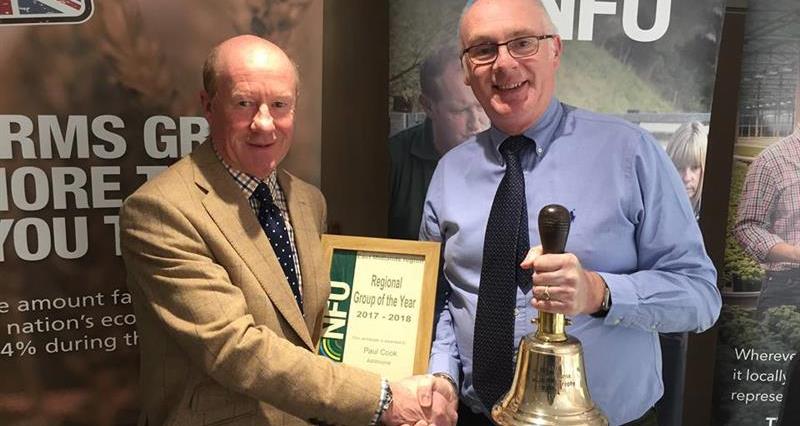 Going above and beyond his duty as group secretary has earned the inspirational Paul Cook the sought after Robert Burns trophy – for the second time.
Paul, based at the Ashbourne branch office, has made it his business to be an important figure in the area's farming community.
And after some stiff competition for the coveted annual prize – which recognises group secretaries' relentless work in securing and supporting members – Paul was announced as 2018's recipient at a conference at Greetham Valley Golf Club late last year.
And it came as a shock to modest Paul, who claimed the same gong for the first time a few years ago.
Read more: A fond farewell to Arthur Slack
"I was completely blown away when my name was called! I never thought it would be possible to win it again," he said.
"This is very much a team effort – we've had success in expanding our membership and work tremendously hard on supporting our members who have a hugely diverse range of concerns.
"We have a great team of staff here and we get superb support from Andrew Critchlow, the county adviser – he is brilliant.
"The main thing is that we care; we care about the welfare of our members."
Some of the highlights of Paul's year are:
·The 2017 NVZ appeal on the River Dove
·Organising the branch centenary dinner and dance with NFU director general, Terry Jones, as guest speaker
·Acting as welfare officer for group secretaries during a year of change
·Supporting members having personal problems
NFU East Midlands regional director Gordon Corner, who presented Paul with the award, said: "It gives me great pleasure to award Paul with the Robert Burns trophy.
"To have won it again, taking into account the strength of the other nominees, is a huge achievement and one which Paul truly deserves.
Read more: 2019 - a year to focus on farm safety
"It is clear to me from his nomination and the glowing reviews of his work by members that he is a central figure in and around Ashbourne, not only in encouraging new members to join the NFU, but retaining the ones already with us through his conscientious, supportive and friendly approach to the role."
The praise was echoed by NFU Derbyshire county adviser Andrew Critchlow.
"Paul has been consistently at or near the top of the Derbyshire league table for recruitment and this year he is easily top with 13 new members," said Andrew.
"Having served Ashbourne branch for 30 years this April (32 and a bit years with the NFU in all) this is an impressive record.
"Paul is a key player in Derbyshire and this award win is thoroughly deserved."