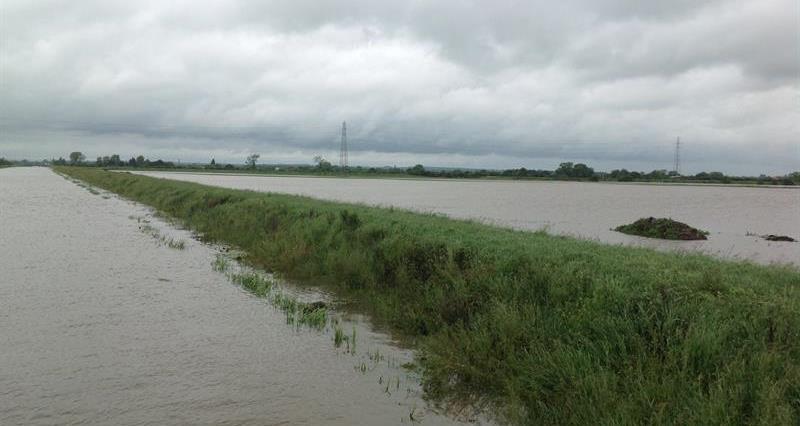 The Steeping Relief Channel flood bank breached on Wednesday 12 June 2019 after relentless heavy rain pummelled the catchment.
Across south Lincolnshire thousands of acres of farmland were swamped as drainage systems battled to get water away quick enough, but the issues at Wainfleet were just beginning.
Around noon a section of the bank burst open, flooding at least 550 acres of farmland in Wainfleet Common and people were forced to flee their properties in Wainfleet.
On Thursday 13 June an emergency was declared and the NFU response swung into action as NFU environment adviser Simon Fisher and the Spilsby NFU group secretaries Phil Odling and Christian Ford inspected the damage in the area.
The RAF were called in to plug the breach and by the evening the first sandbag drops by Chinook helicopters were made to stem the flow from the gaping hole in the bank.
Below is our at-a-glance guide to the NFU's work to help farmers hit by the flooding, which we will update regularly to keep you informed, with the latest news listed first:
NFU activity week 9 (19th - 23rd August)
21st August - meeting with Lindsey Marsh IBD to

discuss what is required in the catchment, and looked at the Outfall end in some detail, as we prepare policy positions both locally and nationally to feed into the section 19 investigation and the Catchment Steering Group.

20th August - NFU survey goes out to members and other affected farmers to establish impact of floods and losses experienced.
NFU activity week 8 (12th - 18th August)
16th August - Conference calls between region and HQ to progress ideas on the farmer fund
16th August - Simon Fisher highlights the key areas that the farm funding could support.

These include, but are not limited to:

Soil testing (nutrients and trace metals)
Applications for boosting organic/nutrient soil content
Cultivations to restore grassland, arable and horticultural land (including cover crops)
Alleviating soil compaction
Removal of flood debris (including potential waste permit dispensation)
Restoring farm access and public rights of way
Restoration of field drainage
NFU activity week 7 (5th - 11th August)
10th August - Defra announces a farmer fund of up to £2m available for farming businesses affected in Wainfleet and North Yorkshire. This is a significant win for the NFU and Wainfleet farmers as the government had initially said there would be no funding available.
NFU activity week 6 (15th to 21st July)
15 July – Simon Fisher continues to bring mapping of the flooded areas together to support the bid for a Farm Recovery Fund, and near completion. Pro forma of the information required from NFU members is designed and completed. NFU seek opportunity to engage with Norfolk County Council who are heading up the independent section 19 investigation under the Flood and Water Management Act 2010, which the council leader wants to report by December.
NFU activity week 5 (8th to 14th July)
12 July – Boston and Wainfleet members met their local MP Matt Warman in the Wainfleet Bateman's Brewery to discuss the impact of flooding. The MP undertook to help support the idea of a Farm Recovery Fund to help restore soils in the flooded areas. He has been in direct contact with secretary of state Michael Gove about the flooding. The Catchment Study Group that NFU meets for the third time to progress a future action plan for the catchment. NFU chief horticulture adviser, Lee Abbey tours the flood damaged vegetable growing areas.
12 July - NFU meeting with Matt Warman MP in Wainfleet?
12 July - Teleconference for catchment study group – catch up
10 July - Piling complete. Temporary sandbags removal. Bank shape and vegetation being restored at breach site. Amphibious weed cutter control ongoing
NFU activity week 4 (1st to 7th July)
4 July – NFU attend MP public meeting in Coronation Hall, Wainfleet as farming representative
Simon Fisher develops a plan of issues going forward including farm recovery fund, developing full understanding of the river issues and Steeping Catchment Group, Section 19 investigation at county council, communications and liaison with NFU members and other stakeholders (inc. Matt Warman MP), briefing members on any issues with BPS, environment schemes and supply contracts
3 July - Catchment study group meeting at Manby
3 July - Discussion with Lindsey Marsh IDB
3 July - Meeting with ELDC seeking support for farm recovery fund and now chair of the strategic and operation recovery groups
NFU activity week 3 (24th to 30th June)
27 June - NFU vice president Stuart Roberts visits area. Talks to farmer meeting with 40+ in attendance at Friskney Village Hall, and then tours the area and via EA visits the breach site repairs. Stuart undertakes to raise idea of a farm recovery fund with Defra ministers
27 June - 30 metres piling completed at breach – watertight
Mapping of farmers affected fine-tuned following two NFU meetings and IDB assistance
27 June - Simon attends first meeting of the catchment study group to discuss future action plan across the whole catchment
24 June - Extent and information about the impact of the breach reported to NFU Council
NFU activity week 2 (17th to 23rd June)
22 June - NFU convened a farmer meeting with EA – IDB and NFU start mapping flooded farmland area. Idea of a farm recovery fund first aired
20 June - Simon Fisher attended Strategic Command Group at Lincoln to brief on farming issues
NFU briefed Defra Minister Robert Goodwill in advance of Lincolnshire Show
18 June - Simon Fisher visited members in Wainfleet Common and Thorpe St Peter area. Alerted Silver Command Group that flood water damage to farmland needed higher priority as crops being lost. Pumping requested. Started to identify farmers in this flood cell and continued issuing updates
As ultra high volume pumps had been installed, river levels slowly dropped but further rainfall forecasted and continued concern about structural integrity of the banks
NFU position agreed ahead of Lincolnshire Show so NFU vice president Stuart Roberts could brief the press. First day of show was a media scrum for interviews. Briefing Defra minister Robert Goodwill
Breach repairs started 18 June
NFU activity week 1 (12th to 16th June)
16 June NFU briefs EA Incident Room on capability and networking – especially farmers offers of help
15 June, farmers help save Thorpe Culvert pumping station within 2cm and 2 minutes of being lost. New flood area identified – Thorpe St Peter/ Frisby flood cell. Water pumped now pumped down the Belle Water Drain to Hobhole pumping station, nr Boston and into Haven
15 June Farming issues outlined to the MP by local NFU member
14 June. Breach plugged approximately 6.00pm. Further reinforcement on the Saturday (370 one tonne bags in total) Concerns about a long "crack" in flood bank.
13 June. NFU Liaised with the Deborah Campbell, Environment Agency, to get updates and highlight farmland flooding and crop loss issues
Local NFU member provided sandbag filling/loading area for Chinooks
13 June. Simon Fisher started email updates to affected farmers and wider NFU, press and media interviews. Loads of activity on Twitter
12 June - NFU started to hear from and identify farmers flooded in Wainfleet Common
Local group secretaries at Boston and Spilsby receiving calls and notification from insured clients and started trouble shooting immediate issues