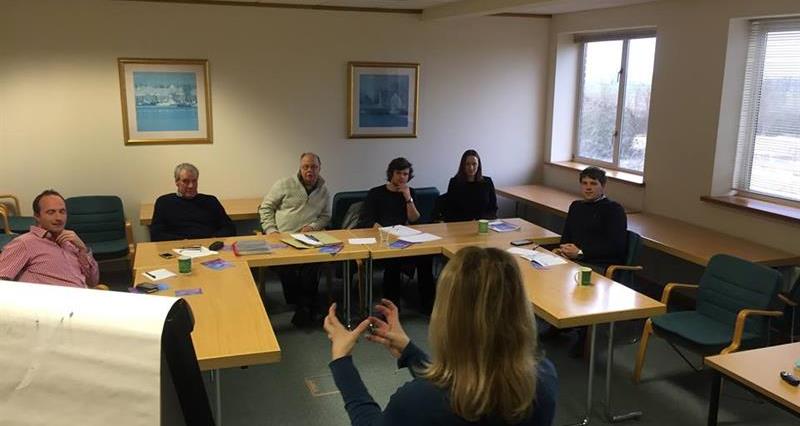 Another impressive new crop of 'agvocates' has completed NFU East Midlands' prestigious Farming Ambassadors training course.
Our flagship training programme, aimedat farmers and growers who want to represent their industry and businesses by learning and developing their communication skills, has helped unearth some real talent over the years.
And the latest six-strong group was no exception.
Emma Jenkinson, from Lincolnshire, Nottinghamshire's Des Allen and Sam Wardell and Leicestershire farmers Craig Langton, Will Oliver and Josh Wright, took the plunge and attended the course, held at the end of January and the beginning of February at Agriculture House in Uppingham.
Read more: NFU members: Tell us if your business is still being affected by dry weather
The three-day schedule followed the Farming Ambassadors' tried and tested format and included sessions on presentation skills, chairmanship and negotiation and media training.
The trainers are all hugely experienced professionals in their fields. Tessa Morton has trained NFU officeholders (among others) in presentation skills, Margaret Hartley provided the secrets behind chairmanship and negotiation and Andy Johnson, an ex-BBC journalist and presenter with a wide portfolio of notable career highlights, helped hone trainees' techniques in front of a camera and microphone.
Des, a pig, sheep and arable farmer from Coddington, said he would recommend the course after a fruitful three days.
"I applied for a place on the ambassadors' course as I occasionally get asked to do radio or even sometimes television interviews. I wanted to improve my presentation skills so that any messages I had were delivered better and without the "errs"," he said.
"I hoped to improve my confidence while under the spotlight; I expected this to be quite a challenge fearing that nerves would always be a problem.
Read more: NFU responds to appointment of new Defra minister
"The most challenging part of the course was on the first morning when I had to do a short presentation to the group, involving Powerpoint. However, the help and advice received doing this will prove invaluable when I need to stand up in front of a group, camera or microphone in the future.
"The whole course was enjoyable, done with fellow farmers who will be good ambassadors for our industry. The content of the course will help me in the future to be more confident with any presentations or interviews I may be called to do plus chairmanship and negotiation skills.
"I would recommend anyone given the opportunity to go on the course, the content and delivery is first class and well worth the three days of time investment."
NFU East Midlands regional director Gordon Corner said: "It's great to see another group of members come through this important course and demonstrates the breadth of talent we have among East Midlands' membership.
"This group learned key skills which will help them immeasurably in a wide array of scenarios; including chairing meetings and being in front of the TV cameras.
Read more: Sheep splitting delay 'huge setback for the sheep sector', NFU says
"To have confident and adept people at the sharp end of spreading farming's positive message is massively important to the NFU as an organisation and to the industry as a whole."
Farming Ambassadors training has been running in the region since 2009 and among its alumni is ex-national livestock board chairman, Charles Sercombe.
The six trainees are chosen by paper application and six is the right size for the course as it guarantees individual attention during the three challenging training sections.
If you want to apply for future courses, or for more information, contact communications adviser James Peck on 01572 824250 or email amFtZXMucGVja0BuZnUub3JnLnVr