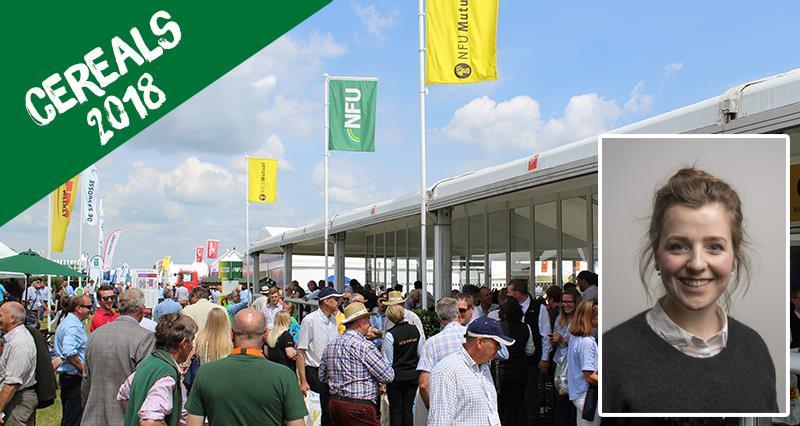 I was delighted to have been asked to speak in the NFU marquee at Cereals this year. As one of the External Affairs Managers based in the NFU's London office my slot was called 'Westminster Hour'.
The post-lunch session that I was given can be hard-going – lots of members full after the delicious roast beef and pork on offer at the NFU lunch and tired from the hot sun, but hopefully I managed to keep people engaged.
During Westminster Hour I spoke about the work of the External Affairs team. I explained that our role is to maximise the impact of the NFU's lobbying and get our key messages to those in the highest places. I also talked about the programme of events and work that our team are responsible for delivering such as political party conference, high profile events in Parliament, briefings for MPs and meetings with key political figures.
Earlier in the day NFU President Minette Batters and crops board chair Tom Bradshaw launched a new campaign called Your Harvest which aims to raise the profile of the arable sector. I have been working with the communications and crops team on this campaign and we are holding an event in Parliament on 18th July to further impress upon politicians the need to support this sector.
But as was mentioned at the launch, it is really important for members to get involved with this campaign and shout as loudly as possible about the excellent work taking place on arable farms. The Your Harvest campaign has some tips on how to successfully lobby your MP but members can also access the External Affairs team's guide to lobbying here.
I finished up my talk with a bit about what's going on in Westminster more widely and how the NFU navigates through these somewhat tricky political times.
It may have been more like Westminster 'quarter of an hour' but hopefully it was useful and informative for those listening. Either way, I thoroughly enjoyed the experience of being at Cereals. My dad attends every year so I used to be a regular recipient of the free pens, keyrings and tote bags that are given out, so it was great to nab my own freebies but also meet with Members and discuss the NFU's political priorities.