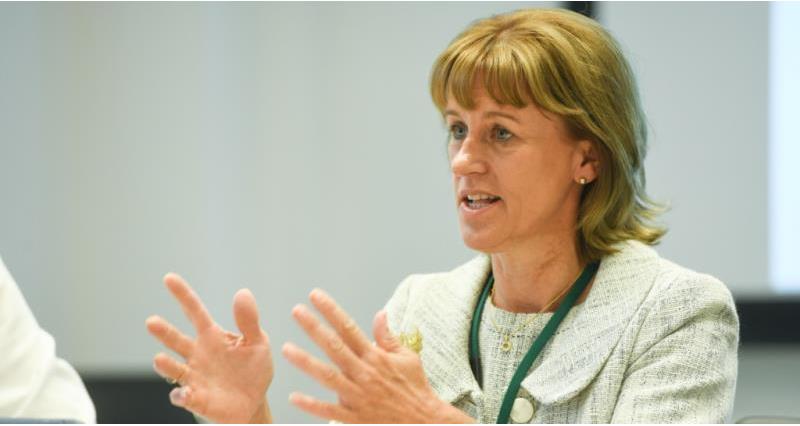 The UK Farming Roundtable, chaired by NFU President Minette Batters, has written to Secretary of State George Eustice asking the government to take urgent and decisive action to address the significant disruption that COVID-19 has brought to farming industries across the UK.
The letter highlights the damage caused to every agricultural sector and calls on the government and farming ministers to commit to rebuilding a more resilient and sustainable domestic food and farming supply chain in the future, and to take immediate action to ensure the survival of British farm businesses at this crucial time.
In the letter, Ms Batters writes:
These are deeply troubling times for the UK. Farmers and growers entered the Covid-19 epidemic following one of the wettest winters on record. Many arable farmers were unable to establish winter crops and livestock keepers have seen their animals housed early to avoid damage to pastures. Covid-19 now brings huge disruption to established food chains and personal risk to many working to deliver an essential service for our country.
Your attendance at the UK Farming Roundtable on Thursday (16 April) and last month has ensured you hear the impact Covid-19 is having on farm businesses across the UK. This is a dynamic and unpredictable situation, and we take comfort from your commitment to continue to speak with and act alongside your counterparts in the devolved administrations. We urge that you champion the situation of UK farming in Cabinet.
Early in the outbreak the UK Government acted decisively, with welcome financial aid to distressed businesses in form of Government-backed loans and employee furloughing. Your intervention with other Departments means that furloughed workers can now work on farm this coming season.
However virtually every commodity is damaged by this outbreak: our farmers are failing to understand why Defra and the UK Government is not taking urgent and decisive action to address the significant disruption and unsustainable returns they now receive. The plight of dairy farmers with raw milk thrown away this week and ornamental producers seeing their year's efforts composted for lack of a market are but two examples.
Members of the Roundtable know that tackling Covid-19 impacts requires immediate mitigation and longer-term review and reform. We already know that this epidemic has shown the vulnerability of the UK's food security, and adaptability of food supply. When the immediacy recedes, the lessons must be taken to re-build a more resilient and sustainable domestic food and farming supply chain. So, I would urge you to commit to publish a white paper that has this as its aim in the decade ahead.
But, I repeat, this disease requires immediate action now. The Government has temporally suspended the normal operation of competition law to ensure that retailers are able to fulfil the demand at this time. In return for that the Government must surely encourage retailers to source their products from domestic sources to ensure the survival of British farm businesses at this crucial time. We also expect that British procurement within crown commercial service contracts for NHS, Military and Prisons is prioritised.
I also call on you, alongside other UK Farming Ministers, unequivocally and vocally to back a vigorous campaign for British farm produce to be the premier supplier of choice for UK consumers and Government during and beyond this Covid-19 outbreak. We are working with AHDB and other devolved organisations and ask that Defra and devolved governments dedicate resource to this end. This would be a huge confidence builder for hard-pressed farmers and the supply chain at this pressured time.
Finally, I ask that on behalf of all English farmers you re-consider the 7-year BPS transition timescale set out in the Agriculture Bill. On Wednesday we heard that the ELMS consultation has been put on hold pending greater certainty regarding the impact of Covid-19. ELMS is a keystone within the English BPS transition, so this postponement throws into question the schemes already tight development timescale. Coupled with the immediate disruptive impact of Covid-19 on Defra's, and farmers' capability to prepare for change, we believe that Defra should delay the first BPS reduction scheduled for December 2021, to December 2022, at earliest.
Members of the UK Farming Roundtable include:
British Egg Industry Council
British Poultry Council
Country Land and Business Association
Linking Environment and Farming
Livestock Auctioneers Association
NFU
NFU Cymru
NFU Scotland
National Beef Association
National Federation of Young Farmers Clubs
National Pig Association
National Sheep Association
Royal Association of British Dairy Farmers
Scottish Land and Estates
Soil Association
Sustainable Farming Trust
Tenant Farmers Association
Ulster Farmers Union
You might also be interested in: