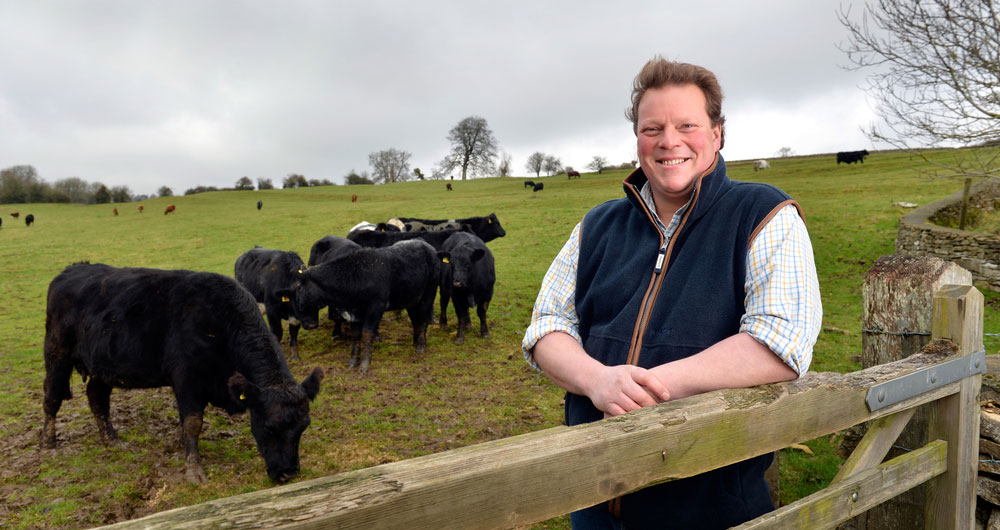 David Barton runs a family farm in Gloucestershire where he rears 65 suckler cows and finishes cattle to the very finest standards for Dovecote Park. David outlines why securing a long-term government food strategy is so important to him:
He said: "Ultimately I'm a food producer and I'm very proud to work to Red Tractor standards which means I have high levels of animal welfare and husbandry. For me, producing food and looking after the environment go hand in hand, and I'm very proud of this as a British farmer.
"Producing beef has very tight margins and is very competitive. If imported food, potentially produced to much lower environmental and animal welfare standards, comes in to our country then it will make my business unviable. Do people really want to eat food that would be illegal to be produced in the UK?
"If my farm isn't here to produce food, it means we won't be here to look after the countryside. So who else will take on this duty? I'm proud that my animals are happy and healthy, are housed in very good conditions during the winter months and have all the nutrients they need. And Red Tractor keeps pushing us all to raise our standards even further.
See also: NFU insight - expanding the conversation around a National Food Strategy
"For example, we've recently refreshed our knowledge on giving antibiotics to animals in the most responsible way. For me that was easy, because I'm already doing it, but we can always learn and improve.
"It is essential that political candidates during this General Election understand the challenges farmers like me face as we look after the environment and produce food to the finest standards.
"My produce ends up as the sirloin steak, roasting joints and minced meat you see in the shops. British shoppers demand the highest standards and it is crucial that we get the support from government to allow us to continue to do this. Protecting our high standards is vital. It would be catastrophic for British farmers, shoppers and our environment if politicians do not back us."
"We're a commodity producer, so our wheat will go into a grain merchant, but the supply chain is massive beast. We need to build relationships and have an integrated supply chain. I am part of steering group with our local abattoir that learns about what works best and how to improve our produce. It helps builds good relationships."
Visit our General Election hub