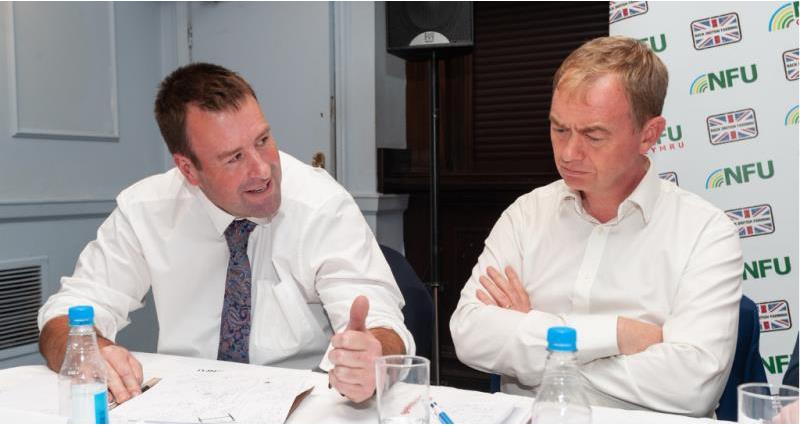 The future of the UK's food policy was debated yesterday at the NFU's fringe event at the Liberal Democrats party conference, the first of the busy political conference season.
Held jointly with the Food and Drink Federation, the panel of NFU Vice President Stuart Roberts, Lib Dem Efra spokesperson Tim Farron, FDF Chief Executive Ian Wright CBE and academic Elise Wach shared their thoughts on what the nation's policy on food should look like.
Following the event, NFU Vice President Stuart Roberts said: "As an island nation, our domestic food supply could not be more important and as we move into more uncertain times this will come into greater focus than ever before. We only need to look back to the wet spring and dry summer to see how the impact of the weather can impact the nation's food producers.
"The NFU has been clear that a future domestic agricultural policy needs to ensure that British farms are able to continue to supply safe, traceable and sustainable British food for all, all while continuing their care for the countryside. Profitable, productive and progressive farm businesses are best placed to do just that and it is vital that a new policy that supports a vibrant farming sector."
Commenting on the debate, Liberal Democrat Efra spokesperson Tim Farron said: "We have clearly seen that the British public want to buy food from UK farmers. When they buy from local producers they know they are buying a product that is ethically produced, with the best for the environment in mind all at the same time.
"We have a culture in Britain of loving and caring for animals, something our farmers epitomise with their high animal welfare standards. I hope the UK government recognises the high standards British farmers adhere to and support them in their efforts to produce food for the nation in any new policy."
The NFU is hosting fringe events at all the major party conferences this autumn. NFU members and the media are welcome to attend.