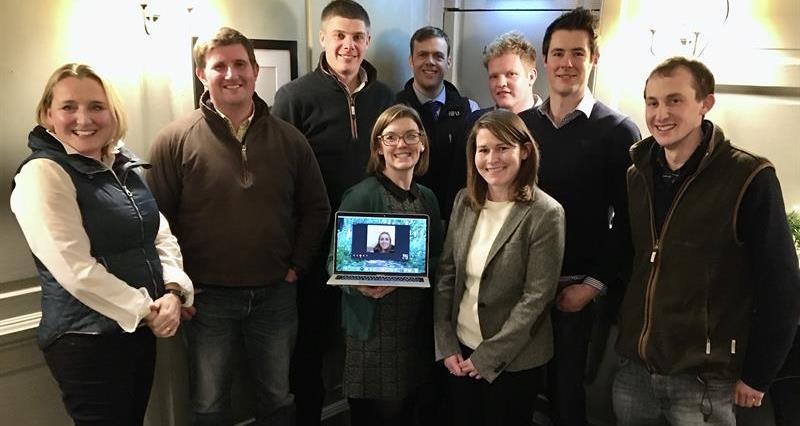 The North East has a small dedicated team of younger farmers working to help develop activity designed to encourage and develop the next generation of farmers in the region.
For more information on the group members, read their stories below...
Olivia Richardson - Group Leader
NFU County: North Riding & Durham
"Life is very varied for me on the North Yorkshire, County Durham border, teaching part time at our local secondary school whilst having a huge interest in our family farm and an unwavering passion for sporting shooting. Our business is mainly arable with approx. 100 head suckler heard, B&B pigs and some sheep dotted around the place for a bit of blood pressure testing every now and then.
"Being a NFU National Next Generation Forum member has given me so many opportunities to develop and allowed me to discuss government policy in many places around the world including Westminster, Brussels and Slovenia. Meetings with people such as MP Michael Gove, Minette Batters and the (CEJA) European Young Farmers Chairman have enabled me to build knowledge and confidence in the constant work that the NFU do to promote our industry and I'm honoured to be a part of it whilst representing the younger generation of farmers."
Matthew Donald
NFU County: North Riding & Durham
"I am a third generation farmer, working alongside my father and brother on the main farm based just outside Northallerton. We have a modern farrow to finish pig unit, producing bacon pigs for Morrisons and a local farm shop. In 2017 I became Young Pig Farmer of the year at the National Pig Awards.
"We also have two broiler breeder units producing fertile hatching eggs for the P D Hook group, these eggs once hatched into chicks go onto broiler farms to produce chicken. Through technology and automation, I am constantly trying to increase productivity across the business. Our sites will produce enough chicks for approximately 1% of the poultry produced in the UK.
"Recently I became an NFU poultry board member, through this I hope to work alongside others toto help steer the industry into a bright future. Away from the farm, I have a keen interest in skiing and cycling."
John Craddock
NFU County: North Riding & Durham
"I farm with my uncle at Kirklington near Bedale. We are tenant farmers on the Kirklington estate and have a mixed farm with cattle and sheep and a variety of crops including potatoes for McCains and wheat, barley and beans which are sold to the local feed mill at Masham.
"As a former chairman of Yorkshire Federation of Young Farmers' Clubs I am keen encourage the younger generation to get involved with the NFU.
"Away from the farm I love sport of any kind and although my football days are now over, I am usually found on a cricket field in one form or another when time allows in the summer."
Emma Smith
NFU County: Northumberland
"Growing up on a family farm in Northumberland I developed a real passion for the countryside and knew I wanted to pursue a career connected to agriculture. I studied Rural Enterprise and Land Management at Harper Adams and qualified as a Chartered Rural Surveyor (MRICS) in 2011 and then as an Agricultural Valuer (FAAV) in 2012.
"Following university I was delighted to return to Northumberland to build my career. I now work for GSC Grays based out of the Alnwick office providing Professional and Estate Management services. I live with my husband and young daughter on a tenanted farm where we mainly specialise in cattle wintering. It is fantastic to be involved in such a dynamic industry and I am excited to see what we can do as the next generation."
Sophie Thornton
NFU County: York East
"Not coming from your typical background, I found my passion for agriculture in Ireland while working on my Dad's family farm and local farmers near-by. After completing a degree in agriculture with marketing from Harper Adams University. I started working for Promar International as a research analyst helping agri-food companies around the globe develop and deliver growth opportunities through actionable insight. My passion is in consumer insight and communicating to the consumer about British farming.
"Being an NFU Student and Young farmer ambassador has given me so many opportunities to develop and network with industry professionals. While gathering greater in-depth understanding of how the NFU works. The opportunities to attend NFU events and seminars have been exceptional. A highlight for me was attending the Lord Mayor's show and being able to shout out about the great things British farmers do while bringing the #BackBritishFarming message to the streets of London. I'm honoured to be a part of the NFU whilst representing the younger generation of farmers."
Thomas Williams
NFU County: York East
"We are mixed farmers in holderness, East Yorkshire. I farm in partnership with my brother and we grow cereals, mainly for feed markets, potatoes, vining peas and also have recently started fattening pigs on a bed and breakfast basis.
"I took part in the NFU s cereals development programme, and have previously been the branch chairman for my local NFU office.
"I went to Newcastle university and studied agricultural farm business management, and I throughly enjoyed my experience at Newcastle."
Alex Warriner
NFU County: York East
"As a farmer's daughter and girlfriend living on the edge of the North Yorkshire Moors there is never a bad view, dull moment and no two days are ever the same. I work within the Agricultural sector organising events for the industry to promote knowledge exchange and farmer to farmer learning. At home I am actively involved in the running of both farms, we have a fattening beef unit, suckler cows and followers, sheep and bed & breakfast pigs over the two sites. My main focus is on animal health and welfare, making grassland profitable within the rotation and genetics.
"Away from the farm, I enjoy discovering new places at home and overseas, baking, reading and the occasional gin and lemonade!"
Emily Field
NFU County: York East
"I am Emily and I farm with my parents, my husband, Andrew, and my two daughters: Connie (2) and Elodie (1). We farm pigs, free range hens and arable on the Yorkshire Wolds and we take great pride in being welfare friendly and forward thinking. We have a small team that share our ethos and we strive to produce the best. My family love being outdoors and if we aren't with the animals, you'll find us on the beach or camping in the garden (Andrew and I are both ex-forces!!).
"Although I have struggled to contribute as well as I would like (due to family commitments), I am extremely honored to be an NFU Next Generation Forum member and look forward to adding as much value to the industry as possible, whilst developing myself."
Jim Beary
NFU County: West Riding
"I'm a tenant sheep, beef and pig farmer in the South Yorkshire Peak District who is passionate about farming with a particular interest in rotational grazing and forage-based farming systems in the uplands.
"Big advocate of positive thinking and progressive farming.
"I'm a keen NFU member and sit on the sheep board as well as helping with the North East next Generation programme."
Louise Hewitt
NFU County: West Riding
"My name is Louise Hewitt, I am a 23-year-old arable farmer from Rotherham, working on our family farm alongside my dad, grandad and cousin. I am currently part of the NFU next generation group for up and coming young farmers.
"Farming has always been a huge passion of mine ever since I was small and I was lucky enough to grow up on our family farm playing with ponies and quad bikes every evening after school with my brother, eventually attending agricultural college and being slowly introduced to work life on the farm becoming full time in 2015.
"A work highlight for me would be collecting my own new tractor in July 2018 making me feel a real asset to the team, I partake in all agricultural jobs on the farm, with my two favourite jobs being delivering straw and raking grass! Farming is definitely a woman's job and I love everything about it!"