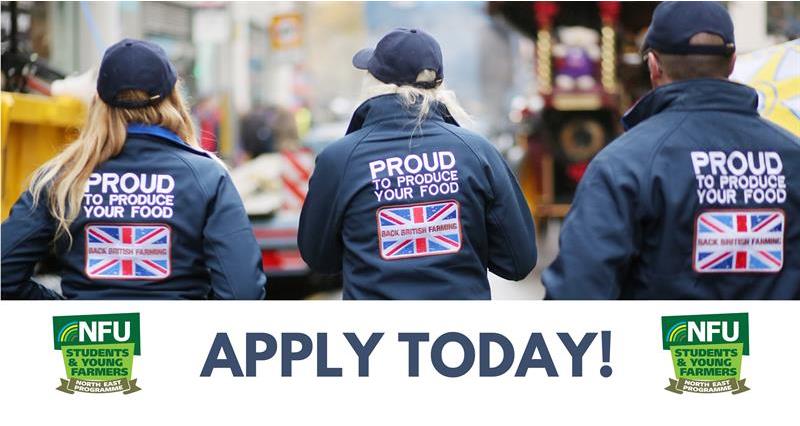 The new Student & Young Farmer North East Programme is now open for applications – offering 12 fully-funded places on a nine-month 'magical mystery tour' of exciting visits starting in October.
What the programme will entail?
This programme is designed to give young people the opportunity to visit inspirational farm businesses across the region, sophisticated supply chain operations and see behind the scenes at the NFU nationally and in Westminster.
Why get involved?
This is an opportunity to:
see how some of the most successful farms in the region operate, embrace technology and develop best practice
understand more about integrated supply chains and the relationship between farmers and retailers
meet influential people in the industry and hear first-hand their views about the future of food and farming in the region
see behind the scenes at the NFU and find out more about the huge diversity of work carried out by the 'Voice of British Farming' at home and abroad and why farming politics is so important to the success of the industry
enjoy the social element and meet other younger farming professionals
add something different to your CV and demonstrate a real interest in and commitment to the industry
Who can apply?
You must be:
an NFU Student & Young Farmer member (It's free! Sign up at www.nfuonline.com/student) or have an active NFU membership within the family
aged between 18 and 30
located in the North East of England (encompassing Yorkshire, County Durham, Tyne & Wear & Northumberland
be pursuing a career in farming/food/rural affairs
able to attend all events with confirmed dates (see timetable below)
willing to engage with the NFU North East regional team to develop/improve the offering for student/younger NFU members
What does it cost?
The programme is free for participants. All food, overnight stays and reasonable travel expenses will be covered as long as participants attend all events.
Additional opportunities may arise throughout the course of the programme which are optional and can be undertaken with some contribution from participants (ie the cost of travel).
When do applications open?
Applications are now open and will close on Friday 21 August. Following a first-stage online application, successful candidates will be invited to a final-stage interview during the first week of September 2020.