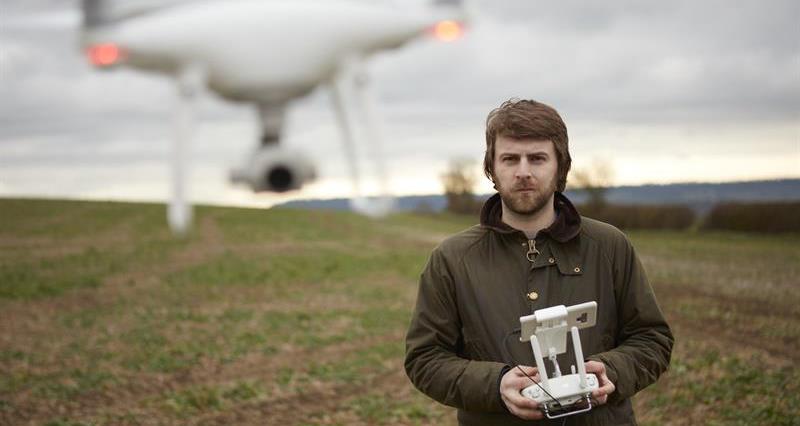 Two farming families – one in Northumberland and one in Norfolk – are working to make drones more accessible and take the technology to the next level. They were featured in the June issue of British Farmer & Grower magazine:
The potential for drone technology to help arable farmers monitor their cropped area, detect crop health issues and even counter disease outbreaks with targeted spraying has long been a talking point. But as is so often the case with new technology, users can struggle to achieve the much-vaunted benefits without specialist training and ongoing support.
So says Jack Wrangham of Northumberland-based Drone AG, who having grown up with his brother Hugh on the family farm, knows only too well how difficult it can be finding the time to get to grips with a new bit of kit.
But with the potential benefits undeniable, the brothers are now on a mission to make the technology as accessible and useful as possible on-farm. They also have one eye firmly on the future, collaborating with Norfolk farmer, Chris Eglington, and researchers at Harper Adams University to explore the potential for drone spraying.
The project that is taking all their time is the development of a new app that will make it quick and easy for any farmer to make good use of a drone and still have change from a £1,000 investment.
Due to be launched next year, the app called 'Skippy Scout' will allow farmers to automate the process of scouting their fields using satellite imaging and a number of pre-set positions across the farm determined by the user.
The drone will skip between the points taking images that are sent directly to the farmer's smart phone. Using artificial intelligence, the app will be able to recognise crop vs weed coverage as well as pest/disease damage.
"The farmer will be given a percentage figure – ie the percentage of diseased leaves in a field – so providing a great decision-making tool," said Jack.
"We do not aim to take people out of the equation. There will always be a need for farmers and their agronomist to discuss how they want to tackle any given problem, but this technology will make the process quicker and easier and allow farmers to catch any pest or disease issues early.
"And with farmers increasingly having to justify their use of chemical sprays, the app also has the potential to provide real-time evidence of issues as they emerge."
The initial software development is now complete and the app is in early stage testing by more than 200 people – 25% of them outside the UK. The next challenge is developing the software's AI capabilities and to raise the necessary funds, the brothers have launched a crowd-funding appeal with a target of £250,000.
"We really like the idea that farmers themselves can have a direct involvement in the development of the app," said Jack. "It's vital that the finished product is practical for farmers on the ground and that's why we have been testing it not only on our farm at home, but also with others at home and abroad."
Another important aspect, says Jack, is the app's compatibility with other farm planning platforms.
"There are a lot of closed systems out there with no cross-compatibility. I want our app to integrate with as many systems as possible."
With the app on track for launch next year, Jack is under no illusions that the 'game-changer' facility would be to be able to use the drone to spot spray crops.
"The potential benefits of this are considerable," he said. "From reducing soil compaction to potentially reducing chemical use by up to 90%.
"At the moment this is probably five years away, but as a collective, with Chris down in Norfolk and colleagues at Harper Adams, we are busy trialling how drone spraying could work and lobbying hard on behalf of the industry for legislation to catch up with the technology.
"Interestingly, there is some suggestion that if we were able to dramatically reduce the amount of active being used, we might see some chemicals currently banned given another lease of life – albeit very tightly regulated.
"This makes the prospect of drone spraying even more appealing."
Feedback from agronomists is that the new approach via the app is very quick and easy to set up. They're reporting that within just a few minutes, pictures from a 8-ha field were landing on their phones.
Looking to the future, Jack can easily imagine a scenario when a warning on septoria was issued, a drone scout was automatically dispatched to survey the fields, and this allowed the farmer to react quickly either by drone or with a variable rate sprayer. The drone scout would then go out a week later to check progress.
"It is an exciting prospect and I knew we were on the right lines," he said, "when my dad – who's ever the sceptic – said he'd use it!"