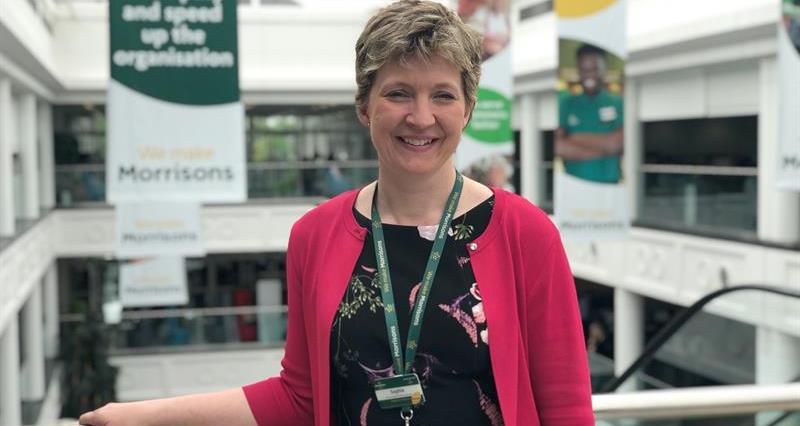 With well over 3,000 farming suppliers on the books, Morrisons agriculture manager, Sophie Throup, has a big job on her hands.
The retailer sets out its stall as British farming's largest supermarket customer and is proud of its commitment to sell 100% British fresh meat, milk and eggs.
How they go about this is unique, buying livestock and poultry direct and working through their own dedicated abattoirs and manufacturing sites.
It was this approach, says Sophie, that attracted her to the job 18 month ago. Hailing from a farming background – with the family's Yorkshire farm home to dairy, poultry and arable enterprises – she is only too aware of the pressures on farm businesses and the challenge of carving out a sustainable, profitable future.
Not new to retail, having successfully completed the Graduate Scheme at Asda early in her career, Sophie has nevertheless come to Morrisons on a somewhat circuitous route, taking in a decade heading up the agricultural research and training consultancy, RAFT Solutions, on the way.
Her farming background and interest in R&D and skills development fits well with her new role, which she sums up as having three strands: policy and standards, R&D and communications - both within the industry and externally with Morrisons' 12m weekly customers.
At the heart of Morrisons' vision is the the feedback they get from customers, primarily through an annual survey carried out online with 4,000 people.
Sophie explains that this survey always emphasises the need to support British farmers and that's one reason the retailer has such a strong focus on working closely with its farmer suppliers.
"Behind food safety, supporting British farmers is the next most important thing to our customers," she said.
"In response to this, we work hard to support our suppliers and help them build resilient businesses. To achieve a stable, secure supply chain, we try to work with farmers pragmatically and sensibly and be open and honest about how Morrisons is doing as a business.
"We also have an eye on the future and with that in mind, have developed a next generation producer group."
Going back to the survey, there are challenges from customers, with concerns over animal welfare being given a higher priority this year.
Sophie's view is that Morrisons needs to think scientifically and objectively about animal welfare standards.
For example, this year they are thinking more about enrichment – what is needed for pigs, broilers and laying hens; how much is needed and why.
"We want to break it down into understandable chunks," said Sophie. "Yes, British agriculture already has very high standards, but we can't afford to be complacent.
"Given my background, I am very interested in how, for example, precision technology can provide us with valuable insights and help us make a difference.
"I want us to embrace innovation but I also understand that we need to take our suppliers on the journey with us and support them in the process of achieving continuous improvement."
This drive has already seen the supermarket move to adopt Arla's '360' standard for milk production and bring forward its commitment to sell only 'cage free' eggs from 2025 to 2022.
Sophie accepts that this is impacting suppliers with colony cage systems, but believes the target is achievable with extra support for growers.
The flip side of a focus on standards is the need to effectively engage with the public and talk about how their food is produced.
Sophie sees this as crucial and was pleased to see a new farming website go live in June, which includes many more farming stories to emphasise the care that goes into food production.
"We are also sponsoring the '#Farm 24' social media activity for the third year running," she said. "This provides a great showcase for farmers to talk about what they do and why and gets lots of engagement from the public.
"British farming has a great story to tell and I'm keen that Morrisons helps to facilitate this."
Asked about the increased focus on eating less meat, Sophie says the supermarket has had to respond. "We have to sell what people want to buy," she said.
"At the same time, we sell a lot of meat and that continues to be very important to us and our customers. We have invested heavily in this side of the business and are committed to continuing to buy whole animals from our suppliers, challenging ourselves to achieve the necessary carcass balance.
"We employ nine meat buyers and thousands of trained butchers to ensure we offer our customers the very best product and service."

On milk, Morrisons is proud of its 'For Farmers' range of dairy products, which since 2015 has delivered more than £12m in extra returns for dairy farmers.
"Our customers expect us to trade fairly with suppliers and have made that clear in our survey," Sophie added.
"With that in mind we are working to give higher prominence to our 'For Farmers' range, and have just made it available on our online shop, with its own dedicated section."
Another aspect of the Morrisons offering is the commitment to local sourcing and the drive to support their stores' local community.
"Stores have the freedom to decide how they want to engage with the local community, but we are also keen to provide opportunities for local food makers," said Sophie.
"We hold events around the country to find local producers and have started working with over 340 new suppliers over the past two years.
"We have also been conducting some research with Cambridge University to explore how we can take this concept forward, asking 'what comes next?' I hope this will be good news for farmers with added value products, providing more opportunity to work with us."
Depending on size and capacity, local suppliers can supply just one store or a few more. The largest supplier feeds into 40 stores.
For Sophie, the key thing is to keep talking to Morrisons' customers. "I spend ten days every year working in-store, when I can really explore customer views," she said. "People genuinely want to know about their food and they should have the opportunity to ask us about it.
"There are challenging topics out there – like climate change for example – and there are a lot of different views on the best way forward.
"I don't believe we should shy away from this. We have a fantastic tale to tell and need to land those messages.
"From Morrisons' perspective, we are operating in a very competitive market where its all about bridging the gap between consumers and our farmer suppliers.
"We need to respond to the concerns of the day – that could be anything from plastic use to food waste – and then be open and transparent about our progress."