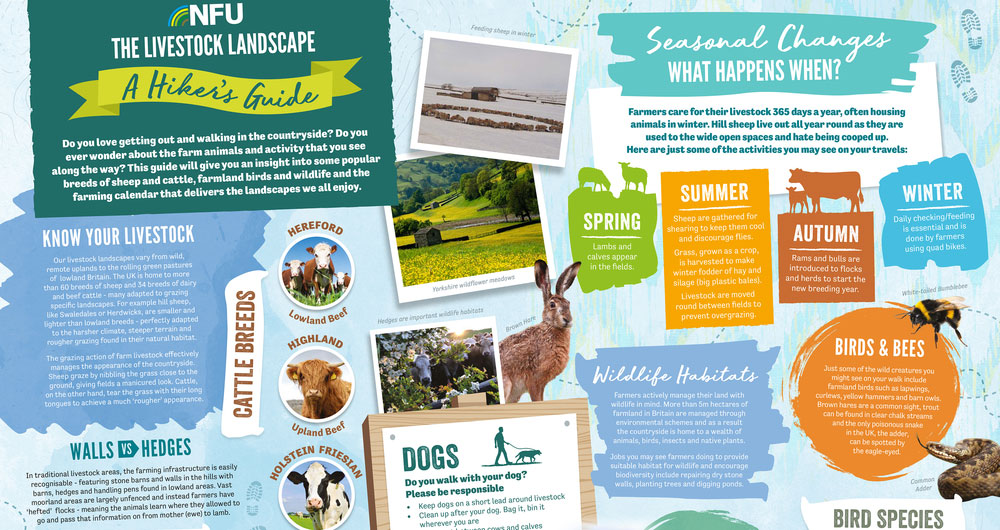 A new publication has been produced by the NFU in the North East as part of the regional #LoveLivestock campaign – a hiker's guide to the livestock landscape.
The poster is available to download that has been produced to coincide with the summer holidays.
A printed version is available for walkers in national park visitor centres across the region.
It was also given out to members of the public at the inaugural Countryfile Live event held at Castle Howard in August.
The guide is designed to be a companion document for keen walkers – giving them an insight into common breeds of cattle and sheep, livestock farming activities that happen at different times of the year, wildlife, birds and plants to look out for and guidance on how to enjoy the countryside responsibly with a dog.
It is the latest addition to the #LoveLivestock campaign that focuses on the wider benefits of livestock production and aims to remind people of the environmental, social and economic benefits delivered.
Anyone with holiday accommodation who would like printed copies should contact NFU regional office by email at bm9ydGguZWFzdEBuZnUub3JnLnVr or phone on 01904 451550.