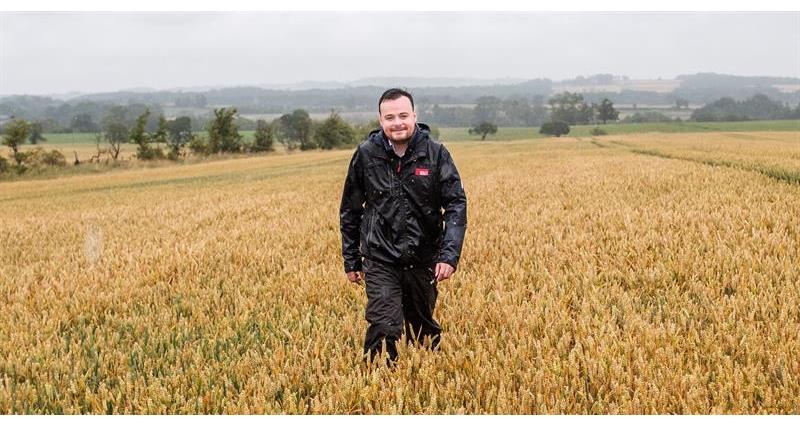 26-year-old Cameron Knee, a Northumberland-based agri-consultant and agronomist, has beaten off stiff competition to win a place on the NFU's national Student and Young Farmer Ambassador Programme.
Starting in September, Cameron will join 10 other younger farmers from across the country on the year-long programme, representing the future generation of British farmers both within the industry and to the wider public.
Designed to appeal to anyone who has a passion for telling farming's incredible story, the Programme will get off to a flying start when the ambassadors take part in London's Lord Mayor's Show later this year - a three-mile-long procession that attracts more than 500,000 people lining the route.
Brought up in Somerset, Cameron says he 'got the farming bug' early with summer jobs on local farms. Although not from a farming family, he decided it was what he wanted to do and went on to study for his degree in agriculture and business management at Newcastle University.
From there he joined agricultural consultants, Strutt & Parker, specialising in farm management and agronomy. He currently manages four farms in Northumberland and 5,000 acres of agronomy.
Cameron will also be known to many in the local farming community as the secretary of the Northern Farming Conference, held annually at Hexham Auction Mart.
Passionate about promoting the work done by local farmers and growers, Cameron says he's particularly keen to get involved with the educational work of the NFU.
"There is a lot to shout about and with so much change on the horizon for the nation, it's never been more important to get out there and talk to people," he said. "I can't wait to get started and am really looking forward to working with schools and hopefully firing their enthusiasm for food and farming.
"Our industry is hugely diverse, so there is a lot to cover, but whether you're talking about climate change, healthy diets or our world-famous landscapes, there really is something for everyone – from the public to politicians - and I'm very proud to have been chosen to help get our message across."
Commenting, NFU Regional Director, Adam Bedford, said he was delighted to see Cameron in the final line-up.
"Farming is very much in the spotlight and people are genuinely interested in what we do," he said. "It is a pivotal time for the industry, but over recent months we have proved just what we can deliver for the nation. Advocates like Cameron will be invaluable in helping us continue to connect with our customers, whoever they may be, and I'm really delighted to see such passion and enthusiasm for the challenge ahead."