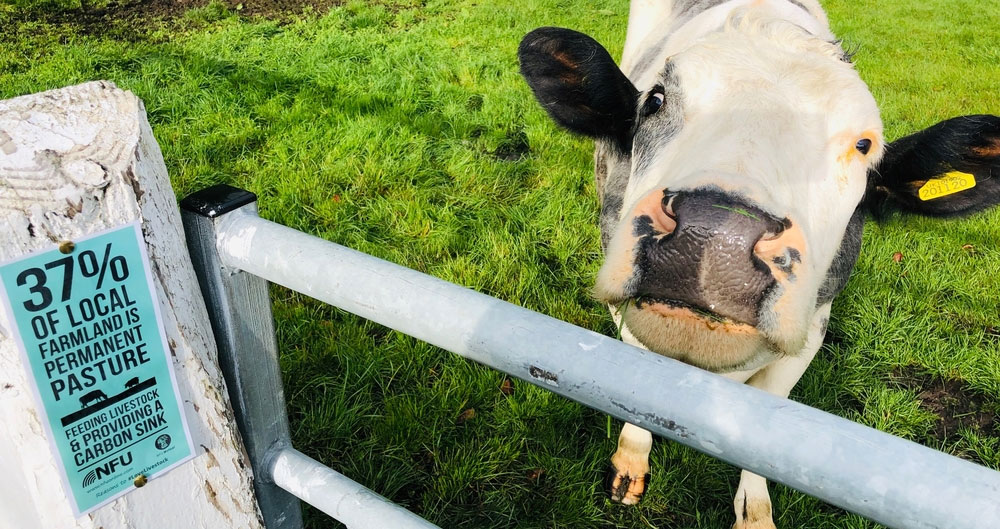 A new regional campaign by the NFU in the North East got underway in Northumberland on Monday (27 May) with the aim of highlighting the positive contribution of grazing livestock to food production, the environment, the local economy and the social fabric of rural communities.
Unveiled at this year's Northumberland County Show at Bywell near Stocksfield, the campaign - Reasons to #LoveLivestock - focuses on the wider benefits delivered by local livestock and dairy farms in a county that is home to more than 250,000 cattle and nearly 2m sheep.
At the heart of the campaign is a set of eye-catching information signs that are free for NFU members and can be easily displayed on stiles and gateposts across the region explaining:
• How grazing livestock maintain the area's spectacular landscapes;
• Why some farmland is only suitable for livestock, rather than crop production;
• How their grazing environment – permanent pasture land – provides a valuable carbon store;
• Why their field boundaries – dry stone walls and hedges – are vital for wildlife and help with climate change; and
• How their manure helps keep soils healthy.

Other elements will include video and virtual reality content for social media and for use at agricultural shows and events throughout the summer. The aim is to explore a range of different themes from farming calendar highlights, to how livestock and dairy farm businesses underpin other rural businesses and help ensure that deeply rural communities and local services remain viable.
From an economic perspective, the campaign will remind people that in Northumberland alone, the sector's produce is worth more than £190m.
Northumberland County Chairman, organic livestock producer, Simon Bainbridge said he hoped the campaign would encourage a bit of reflection on why livestock are so integral to farming and rural life.
"In Northumberland, our beautiful natural landscape ranges from the wild and rugged heights of our moorland to the patchwork of wall-bound fields that surround the family farms further down the hill.
"It's a landscape that has been formed and managed for generations by the grazing action of livestock - delivering the setting for our wonderful National Park that attracts more than 1.5m visitors every year.
"Our farm animals do make a valuable contribution to our region, and while as an industry we work hard to become ever more sustainable, we must not lose sight of what the 'law of unintended consequences' might deliver if we were to see our regional herds and flocks diminish."
To launch the campaign the NFU is planning an ambitious stand at the County Show, complete with a simulated landscape, animals and a virtual reality experience. Throughout the day local farmers will be on the stand opposite the sheep lines, happy to talk to members of the public.
Any NFU members wanting to receive a supply of gatepost signs can order them from their NFU Regional Office.