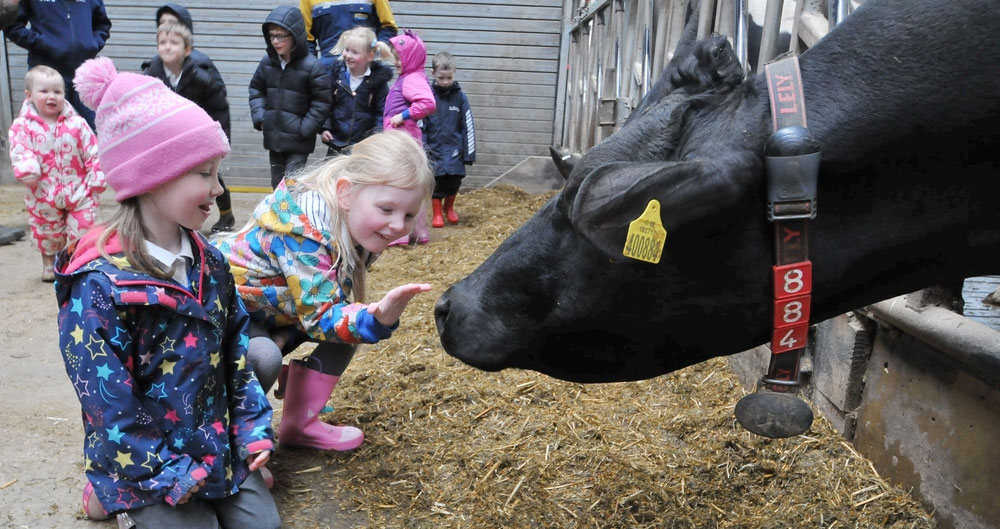 A 'farmtastic' fortnight has seen pupils from Settle Primary School out and about meeting local farmers, their animals and travelling to Westminster for the finale of the NFU's Farmvention competition.
Three visits were provided as prizes in STEM (Science,Technology, Engineering and Maths) competition, after the school was chosen from more than 1,000 entries as one of nine national winners.
Their first day out saw them enjoy a fully funded visit to a local dairy farm, where they met the herd of cows and calves, sat on a real tractor and saw how robotics are being embraced by the farming industry.
This was especially relevant as the children's competition entry involved using robotics in their design for a concept 'tractor of the future'.
Just a few days later five pupils made the long trip to Westminster for the national final of the competition. The train journey was marred by lengthy delays and a taxi drivers' strike in London, but says High Level Teaching Assistant Sarah Entwistle, the five and six-year-old children thoroughly enjoyed the experience – even the challenge of getting through security in the House of Commons.
Finally the school hosted local farmer, Anthony Bradley, who brought in two ewes and lambs for the children to meet, explaining how the ewes look after their lambs, feed them and recognise them in the flock thanks to their individual smell and 'bleat'.
Regional director for the NFU, Adam Bedford, said he was delighted the children had enjoyed such an action-packed term. "A huge amount of work went into their competition entry – designing a 'plug 'n' play' tractor with interchangeable components," he said. "So it was really important to bring farming to life for them.
"The trip to London didn't quite go to plan, but the children did make it to Westminster and were congratulated ahead of time by local MP Julian Smith.
"Our President, Minette Batters, was impressed by the creative approach the children had taken and everyone involved should be very proud of their budding engineers."
Ms Entwistle said taking part in the competition had been hugely worthwhile. She singled out the visit to the dairy farm for special praise saying: "Having never visited a dairy farm, the children had no idea what to expect. We got such a warm welcome and it was clear how much effort had gone into organising the day.
"A real highlight was seeing the different robots and the jobs they do on the farm, but the children also loved seeing the cows close up and sitting on the tractor and seeing its engine. Ending the day with little gift bags was the icing on the cake."
The final prize will follow after Easter – a visit to the school by the Small Robot Company to help the children work on their design.