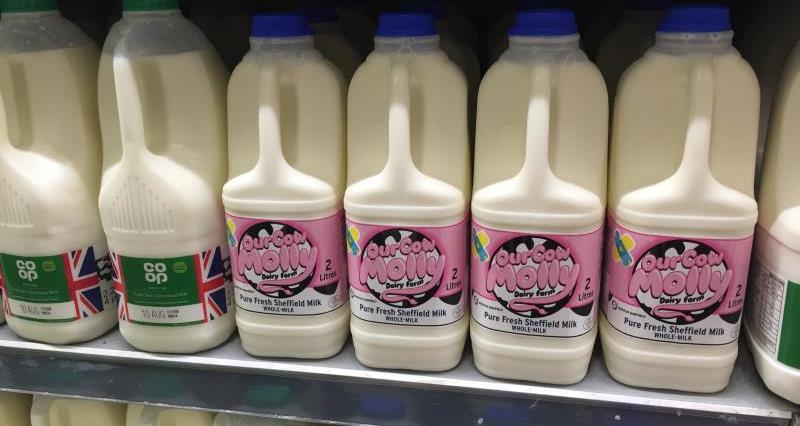 Co-op is now selling branded milk from Our Cow Molly in five of its Sheffield stores, with a sixth planned for later in the month.
The community-minded NFU members made the supermarket's shelves as part of a commitment from Co-op to stock more locally-sourced produce.
Owner Eddie Andrew said: "The response to the Co-op offering its Sheffield customers milk that's produced from cows grazing just a few miles from the stores has been amazing and that fact that each bottle invites the customer to visit the farm offers real product provenance and the opportunity to come and see the cows that produce Our Cow Molly milk."
Our Cow Molly won this year's BBC Food and Farming Award for Future Food Chain and the Yorkshire Post's Farmer of the Year competition.
The Andrews family business processes and sells significant quantities of its milk direct to the public through a milk round and have made the most of social media to extend their customer base, reaching into the city itself.
They diversified into ice cream in 2007 and soon built up a strong local following of shops and restaurants, building on a desire for traceable, genuinely local fresh produce. The farm now even boasts an ice cream parlour. In all, more than 100 independent businesses in the Sheffield area use Our Cow Molly dairy products.
The BBC prize came thanks to an innovative partnership with the University of Sheffield which sees the Dungworth farm supply all of the university cafes, with orders placed on smart phones and computers and processed and delivered on the same day.
They The Co-op's Sue Wade, said: "Our locally sourced products are proving extremely successful with our customers and members, who really care about the provenance of their food. Our Cow Molly is a great example of how we are championing a better way of doing business for our local communities in Sheffield."
Our Cow Molly gained SALSA approval to help with the supply process to the national retailer. Find out more about Our Cow Molly's fresh milk and dairy ice cream here.