North West politicians threw their weight behind British farming at an NFU event which made the case for agriculture, following the EU referendum vote.
Back British Farming Day was celebrated in Westminster on 14 September and MPs were updated on industry priorities for a new Domestic Agricultural Policy (DAP).
The NFU has been busy listening to farmers and growers as it looks to help shape agri-policy and influence decision makers following the referendum vote.
In Westminster more than 100 MPs and Peers signed the NFU's Back British Farming pledge to show their support for agriculture and horticulture.
Some also wore special edition Back British Farming lapel pins when they took part in Prime Minister's Questions.
Defra Secretary of State Andrea Leadsom and farming minister George Eustice also attended and signed the pledge alongside 11 North West MPs.
Lancaster and Fleetwood MP Cat Smith was one of those from the region who supported the event, she said: "Farming is an important part of the economy in Lancaster and Fleetwood as well as in the UK more widely, and I'm proud to support and work with my local farmers. Buying British is a big part of backing British farming and something everyone can do. But as an MP I know backing British farming also has to be about speaking up in Parliament and ensuring the delivery of services to rural communities, and calling on government to protecting farm land from flooding and the after effects of a flood."
The others were: Labour MP for Garston & Halewood Maria Eagle, Conservative MP for Weaver Vale Graham Evans, Labour MP for Workington Sue Hayman, Liberal Democrat leader and MP for Westmorland and Lonsdale Tim Farron, Conservative MP for Bury North David Nuttall, Conservative MP for South Ribble Seema Kennedy, Conservative MP for Macclesfield David Rutley, Labour MP for Heywood and Middleton Liz McInnes, Labour MP for Chorley Lindsay Hoyle and Conservative MP for Congleton Fiona Bruce.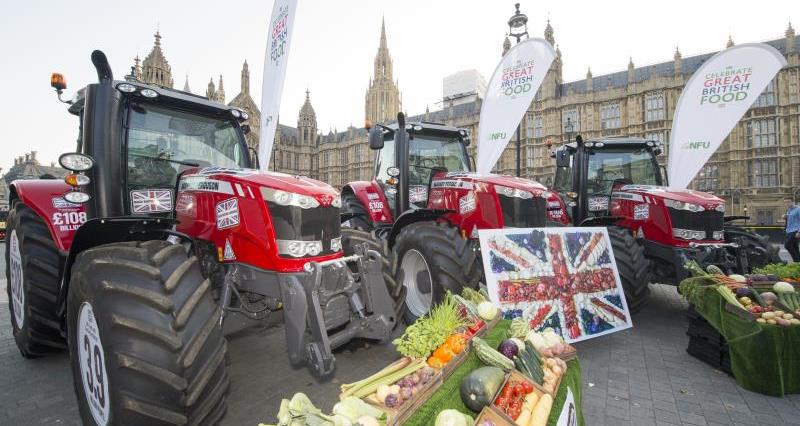 The showcase event was part of Celebrate Great British Food which is an initiative between the NFU, AHDB, Red Tractor and Love British Food to mark the 2016 Year of British Food.
Farmer Olly Harrison, NFU Combinable Crops Board Chairman for Cheshire, Cumbria and Lancashire said: "British farming has a remarkable story to tell and it was important to put it front and centre following the referendum vote to leave the EU.
He said: "I was pleased to see strong support from politicians on the day including my own MP Maria Eagle who stopped to chat with me outside of Westminster for nearly 45 minutes."
The NFU continues to consult members and their views are being collated and fed-back for a final report to go to the union's policy board on 29 September ahead of final agreement by NFU Council in October.
More than 2km of British wool was dyed and spun to wrap around 3,000 ears of British wheat for the production of the bespoke lapel pins.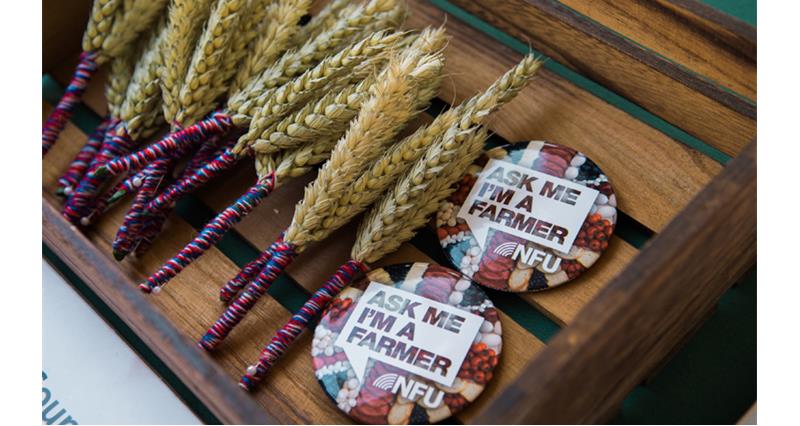 Back British Farming Day coincided with the union's last Brexit consultation roadshow event with thousands of NFU members attending more than 50 meetings the length and breadth of the country.
The consultation is on-going and gives farmers and growers a chance to make their voice heard in shaping a post-Brexit domestic agriculture policy for the UK.
Member feedback will help NFU officeholders, supported by board chairmen, create a vision for a future domestic farming policy.