Farmers from the Penrith area met with Rory Stewart (MP for Penrith and the Border) on Friday 12 August at a kitchen table meeting at Sockbridge Hall, organised by NFU Cumbria County Adviser Mike Sanderson.
NFU Cumbria County Chairman David Raine from Old Parks in Kirkoswald was present at the meeting and said important areas of policy such as how we'll trade, what kind of support the industry needs, how farmers and growers will source labour and the intricacies of a domestic agricultural policy were all discussed.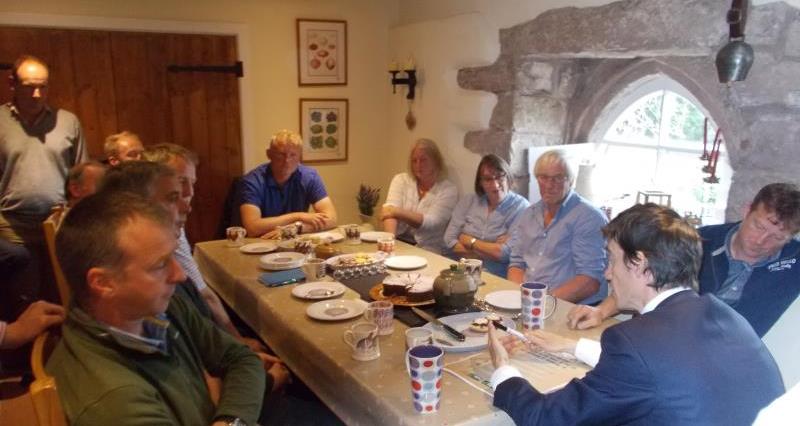 Mr Raine said: "The best way for Cumbrian farmers to have their ideas and thoughts heard by MPs like Rory Stewart is to get involved in the NFU's post Brexit consultation. We're expecting thousands of NFU members to grasp with both hands the opportunity to share their views. This is the chance to shape the future for our industry for all future generations of British farmers and growers."
The NFU launched its options paper last week giving its members the chance to voice what they think is needed from a future domestic agricultural policy for the British farming sector. The consultation will be the largest in a generation with 50 meetings being held across the country for members to attend and discuss the options with NFU officeholders and policy advisers. The consultation period will end on 14 September 2016 - the day the NFU will hold its Back British Farming Day to promote dynamic British food and farming to MPs.
"Brexit is about building the industry's influence. The NFU's aim, once our members have spoken, is to provide a strong and united voice for the food and farming industry to ensure that agriculture's interests are represented in trade discussions," added Mr Raine.
"I encourage NFU members to obtain and read a copy of the organisation's options paper entitled 'Shaping a new and dynamic future for agriculture and horticulture'. Then they should attend one or more of our consultation meetings in the months ahead. This is your chance to shape the future for our industry, for you and for all future generations of British farmers and growers."
Meetings scheduled in Cumbria are as follows (for NFU members only):
Wednesday 24 August
Café Ambio, J36 Rural Auction Centre, Crooklands, Kendal, LA7 7FP
11am start until approximately 1pm (President Meurig Raymond will be in attendance)
Wednesday 24 August
Stoneybeck Inn, Bowscar, Penrith, Cumbria, CA11 8RP
7.30pm start in the Ullswater Suite (President Meurig Raymond will be in attendance)
There are two alternative methods for you to submit your views.
* Firstly, between 22nd August and 14th September, members can also access the consultation paper and submit their response via the member's area of NFU Online. Please note that to use this facility you will need your regular log in details. Should you not remember them they can be obtained by contacting NFU CallFirst on 0370 845 8458.
* Secondly, members can also be sent a copy of the consultation and response paper by post. Should you wish to receive your copy this way then, again, please contact NFU CallFirst on 0370 845 8458 and return before 14th September.
* In order to help the NFU North West team plan for numbers at the above events, if NFU members wish to attend, they should call Diane Swift on 01695 554900 or email ZGlhbmUuc3dpZnRAbmZ1Lm9yZy51aw==