NFU North West beef and lamb producers were given the opportunity to visit AHDB Beef and Lamb's new product development unit. Based at Wilmslow in Cheshire, the unit's aim is to look at new ways of promoting British beef and lamb.
Members were given a presentation by Matt Southam, AHDB's Multiple Retailer Account Manager, who explained how consumer habits are changing. Mr Southam explained: "There is no avoiding the fact that consumer eating habits have changed significantly in recent years brought about by a number of factors such as increased time pressures, less cooking education as well as an increase in the number of smaller households."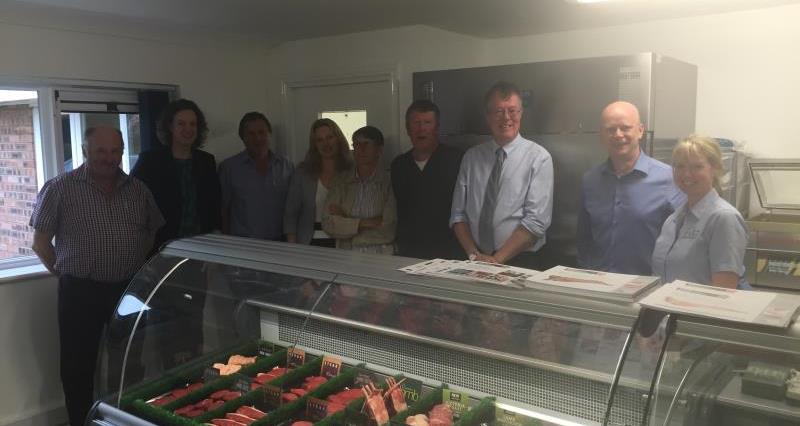 "One of the most startling consequences, as far as the meat industry is concerned, is the reduction in the amount of time consumers spend preparing and cooking the evening meal – down from 60 minutes in 1980 to just 31 minutes in 2014".
To cope with this change in demand Matt explained how the industry needs to offer consumers a range of easy to cook products and meal solutions. Consumers eating habits are changing to dish based meals rather than your traditional Sunday roast.
Mr Southam then explained that over the summer months AHDB will be having a promotion on the mini roast joint. The smaller roasting joints are easy to prepare and require a reduced cooking time in comparison to traditional larger joints.
Liz Ford, AHDB North West Regional Manager, explained about the work they are doing with retailers, showing them the latest product development initiatives to help optimise their product ranges.
One of the key messages the members received was that most consumers want convenience and this presents a large opportunity for the beef and lamb industry if marketed correctly. AHDB research has shown that consumers are willing to spend significantly more on products that have been made convenient – for example come with a sauce or have been packaged in an oven-ready format.
The group were then treated to a presentation from Martin Eccles who is AHDB Beef and Lamb's Trade Marketing Executive. Mr Eccles' role involves developing new cuts of beef and lamb, as well as methods of preparation and presentation. He showed the group different cuts of meat and ways of presenting which certainly gave the group food for thought. One of the key messages the group took away was the necessity to change the cuts offered around the seasons. In the summer the consumers want meat which can be barbequed, while in the winter roast joints will be more popular.
Following on from the demonstrations, the NFU North West Livestock Board held its bi-monthly meeting. Areas discussed included pre and post movement TB testing in low risk areas, the launch of the BVD eradication program, new ten miles livestock CPH rationalisation movements and veterinary medicines directives.
If you're interested in coming to a future North West livestock board meeting, please contact Helen Forrester on 07551 151329 or SGVsZW4uRm9ycmVzdGVyQG5mdS5vcmcudWs=