Farmers and others visiting Gisburn and Clitheroe auction marts have the chance to drop in on experienced practice nurses to talk over health concerns thanks to a new initiative called Field Nurse.
The doors of the Gisburn drop in clinic opened in July and the Clitheroe centre in September 2016. It is hoped to extend the service in future if it proves a success, but the immediate priority is to establish and develop the existing clinics.
Field Nurse is self-funding through donations and various fundraising activities. For administrative and insurance purposes it operates under the umbrella of Crossroads Care Ribble Valley.
The nursing team is currently made up of Helen Marginson (an NFU Clitheroe member) and Jane Spurgeon. Helen is a practice nurse at Clitheroe Health Centre supporting Field Nurse in her spare time, while Jane has recently retired as a treatment room Sister at the same Health Centre where she worked for 25 years. Supporting the nurses are volunteers who talk to people in the market about the clinic raising awareness of its services.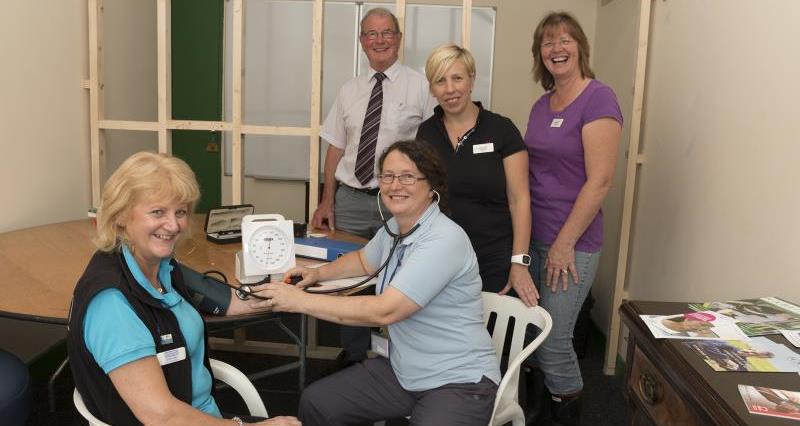 Photo caption: Field Nurse's Helen Marginson checks blood pressure for Anne Carr at Gisburn Mart. Behind are supporter, Roger Dugdale; and volunteers, Sue Aspin and Lynda Holt.
Helen said: "Farmers are busy people and generally stoic about ill health. Many can be a little stubborn about seeking help for their health worries which in turn can mean problems can easily become more serious, simply because they have not sought professional help earlier.
"With Field Nurse they do not need to make an appointment, just dropping in. Some simply want a chat, and it is surprising what we can learn about their physical and mental health in the process. We also have the advantage that we are not limited by the 10 minutes appointment used by most GPs.
"We can carry out simple checks such as taking blood pressure. We are certainly not a substitute for GPs or other health professionals.
"While we will be there on normal market days, Thursday at Gisburn and Tuesday at Clitheroe we will also open for some special days such as the big sheep sales where many farmers come in from more remote areas."
Retired farmer, Julie Ford of Pateley Bridge said: "I think Field Nurse is brilliant. I dropped in because I was concerned about high blood pressure and they referred me to my own doctor who advised me to monitor my pressure. Now I drop in the clinic when I come to Gisburn mart and the nurses check it for me. I much prefer doing this than having to make appointments with my GP and local health centre.
One of the Field Nurse founders, Roger Dugdale said: "I work with an old established company supplying farmers. Farmers often work in isolation and are reluctant to visit their doctor about physical illness and mental problems such as stress. I felt it was a really good idea if we could offer them a drop in clinic where they could get professional advice which may well prevent their problems becoming worse and, perhaps, even save lives."