NFU North West members put farming on hold for a morning so that they could talk to shoppers about great British food in support of Red Tractor Week (12-18 September) at the Asda Trafford Park Supercentre.
Farmers from the livestock, dairy, potato and pig meat sectors stood by a brand new red Massey Ferguson tractor (kindly supplied by Clarke and Pulman) handing out leaflets, stickers and trolley keyrings to raise awareness of the Red Tractor logo as shoppers entered the supermarket on Monday 12 September.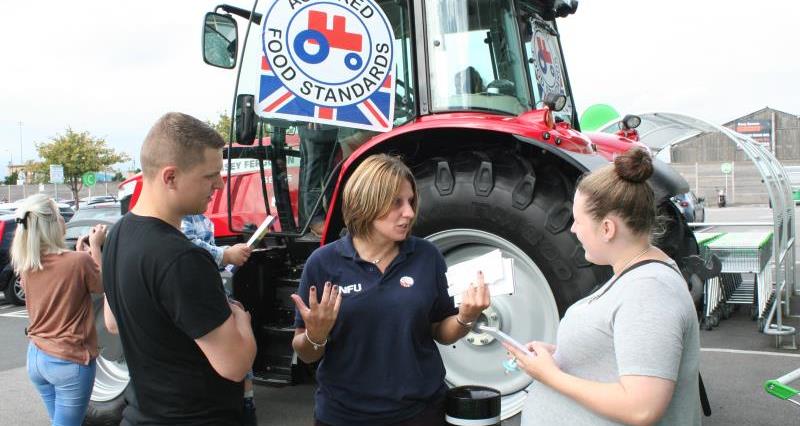 Although support for backing British farming was extremely high from the people of Manchester, awareness of the Red Tractor logo was scarily low.
Bill Mellor, who farms at Higher Farm in Stockport, said: "We had an extremely successful day positively promoting farming but it is worrying how few people recognise the Red Tractor logo. I had a walk around the supermarket and was disappointed by the fresh meat aisle which was selling a lot of New Zealand lamb of varying cuts at a time when there is a lot of British lamb about. It was on the same shelves in similar packages.
"The same could be said for beef. There was a lot of Irish beef being sold alongside British product and in some cases as part of the same discount offer.
"More farmers should take time out of their busy days to promote our Red Tractor logo to shoppers as they enter supermarkets. I think it would be an eye opening experience because in the real world consumer recognition of the logo is nowhere near the level we'd hope it to be. There is a great deal of work still to be done."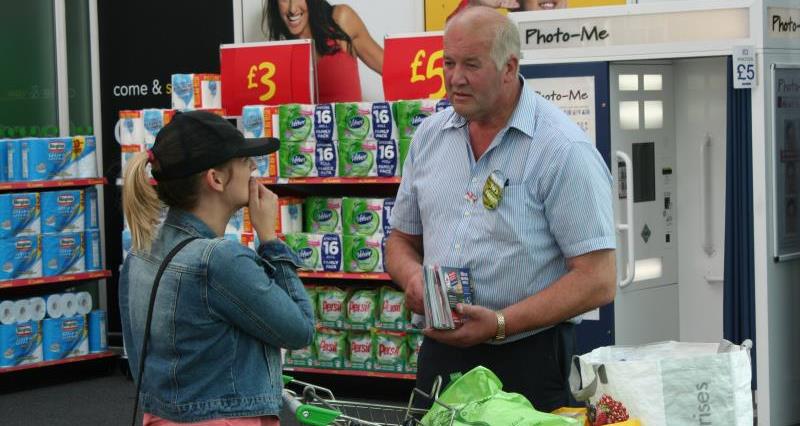 Half-day events like the one in Manchester are taking place at supermarkets across the UK all this week to encourage shoppers to look out for and purchase products with the Red Tractor logo to ensure the very best in traceability, environmental protection, food safety and hygiene and animal welfare standards.
NFU Deputy President Minette Batters said: "Farmers and growers are rightly extremely proud of the work they do and the high quality food they produce. Red Tractor Week offers a great opportunity for farmers and growers to talk to the public and promote great British food and farming. We have a great story to tell. The food and farming sector provides jobs to some 3.9 million people and combined contributes to the economy a massive £108 billion.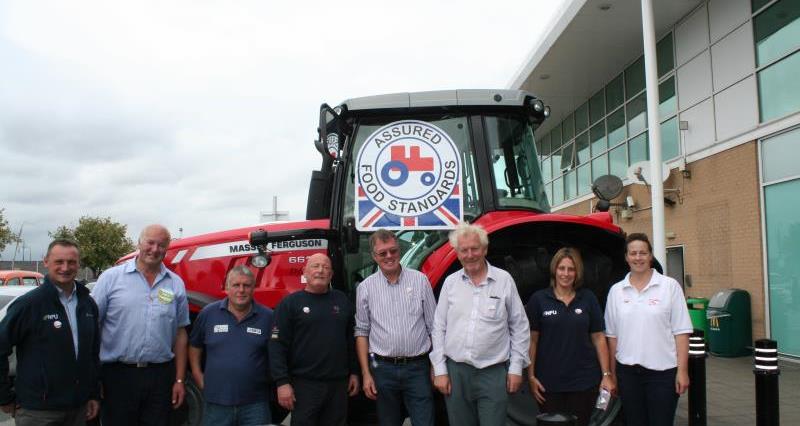 "The Red Tractor Assurance scheme means that shoppers can trace their food from farm to fork. The Red Tractor logo is a world leading standard for quality, food safety, traceability, animal welfare and a cared for environment. I am delighted that the NFU is working together with Assured Food Standards to promote the Red Tractor."
Ladies in Pigs representative Jane Nicholson of Lodge Farm in Lytham, added: "It became obvious fairly quickly that people don't really spend too much time thinking about what they are eating or buying. The shoppers I spoke to like the Red Tractor logo and its values but I did spend a lot of time explaining it's not a logo exclusive to meat products."
Farmers at the event included: Beef and sheep farmer Bill Mellor of Higher Farm in Stockport, pig producer Jane Nicholson of Lodge Farm in Lytham, potato farmer Colin Bradley of Stanley Villa Farm in Preston, dairy farmer Ray Brown of The Orchard Farm in Holmes Chapel and Philip Smallwood of Greenheyes Farm in Middlewich.
Photos from the event can be found on the NFU North West's Flickr account here - https://www.flickr.com/photos/nfunorthwest/