We must start on a sad note.
Most of you will be aware of the passing of Gordon Capstick.
Gordon was a man who did an incredible amount within the NFU, from being county chairman during one of the most difficult times imaginable, to serving on committees and also managing to fit in working for the NFU Mutual as an assessor.
He will be missed by many, and like all those who have been laid to rest during Covid-19, a great deal of people who would normally pay their respects were unable to. There was, however, a fair turnout of tractors to follow the cortege.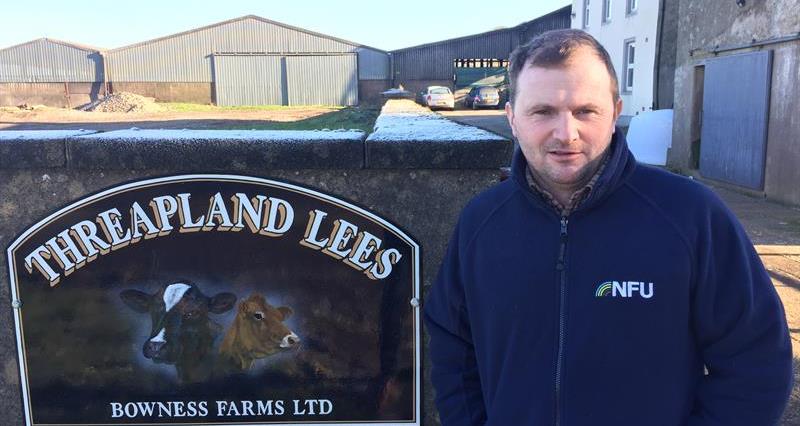 The second passing to report is Martyn Mawson. Martyn was tragically killed in an accident on the farm and leaves a wife and two sons. He did a tremendous amount in the local area as well as being involved further afield. He will be a loss to many.
The pandemic continues to rumble on, although as farmers we should be thankful of the fact that our lives haven't been affected as much as others. We still have some normality.
The weather at the start made for one of the easiest springs I have known, however the novelty of endless sunny days quickly evaporated, just like the very rare showers of rain we had. The impact on crops and grass growth is being felt right across the country.
The disruption to the milk markets from Covid-19 now seems to be replaced with fears of a milk shortage in mid-summer and talk of price rises in July. For those at the bottom of the price table, I sincerely hope this news is true.
And with the beef and lamb trade staying at a respectable level, we can only hope that we can work out a safe way to market breeding stock in time for the autumn sales and benefit from the transparency that the live auction brings.
Tourists, you either love them or hate them depending on where you are, but to a great deal of people they are essential to the business, especially in areas such as the lakes.
Having driven through Ambleside on Bank Holiday Sunday, it resembled a scene from a movie, and I am sure a lot of those small businesses will struggle to carry on.
However, I do think it's about time the National Park Authority had a shake up and started to allow more parking areas and facilities to be created in areas of high demand.
It wouldn't cost them anything, would create income streams for farmers and provide a better experience for visitors and locals alike. They really are living in cuckoo land if they think the answer is to get people to abandon their cars and use the bus. If you've seen the facilities in national parks in other countries compared to ours, then you'll know we need to up our game.
Meanwhile back on the farm, the joy of lockdown continues although the self-isolation didn't last very long (thanks for all those that asked). With the dry weather, jobs which have been waiting a good number of years are finally getting sorted, BPS has been completed remotely and I only hope the RPA are going to apply a soft touch to any mistakes which will inevitably be found.
We also have been accepted onto the mid-tier scheme, so it looks like a busy couple of years, and I've revisited my childhood and have gone back into pigs - okay just one sow but it's a start.
Looking forward, I don't know what the rest of this summer is going to throw at us but as father pointed out we started first cut in April and finished making hay in May. I am starting to feel nervous for what else is coming.