Macclesfield MP, David Rutley, met with representatives from the National Farmers' Union recently to discuss a variety of issues of interest to the local farming community with a focus on the future of farming following Brexit.
The well-attended meeting, at which around 15 members from the agricultural sector in and around Macclesfield were present, focussed, in particular, on new arrangements for farmers following the UK's withdrawal from the EU, and the transition from the current Basic Payment Scheme to new measures being taken forward in the Environment Bill, such as the Environment Land Management Scheme. There was also discussion of the role of agriculture in future trade agreements.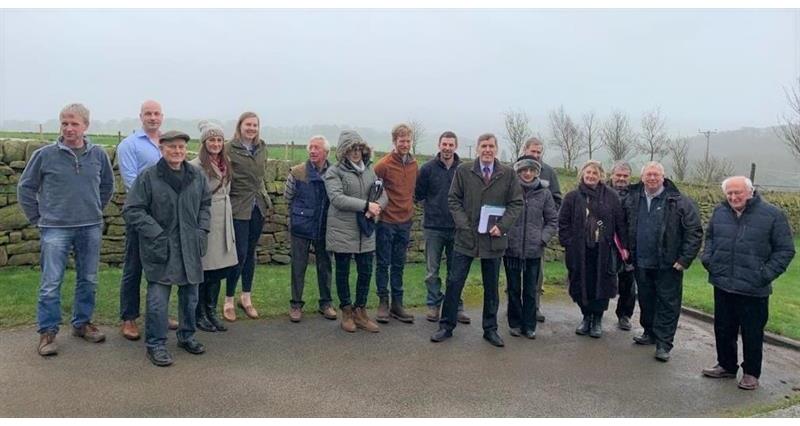 Mr Rutley updated the NFU members present on measures being introduced by the Government to address these important issues. This includes the landmark Environment Bill, which David says will help to position the UK as a world leader on improving air quality, environmental biodiversity, and managing precious water resources in a changing climate, and the Agriculture Bill, which he says will boost productivity and reward environmental improvements in the farming sector for decades to come.
A range of other important topics were also covered during the meeting, including ongoing concerns about sheep worrying. The meeting was kindly hosted by local farmer John Brocklehurst, of Hill Top Farm in Wincle, near Macclesfield, who has returned from a career in the food industry to take the reins at the family farm.
Speaking after the meeting, Mr Rutley said: "Following our country's withdrawal from the EU, it was good to meet with members of the local farming community, to discuss the important opportunities and strategic choices facing the agricultural sector in the coming months and years.
"As ever I was grateful to members for a constructive and positive meeting and I look forward to working closely with the NFU as we develop new arrangements for our farmers going forward."