The DNA marking of sheep is to be trialled as part of Operation Shield in Cheshire.
Cheshire Constabulary's Operation Shield aims to protect every property in a 90 square mile radius of rural south Cheshire, including farms.
Led by PC Gerard Gigg, Operation Shield works by using state-of-the-art unique DNA liquid which contains an individual code to mark property. The DNA coding in the liquid is registered solely to your address and added to a database. This means that if anything is ever stolen, it can be traced back to you.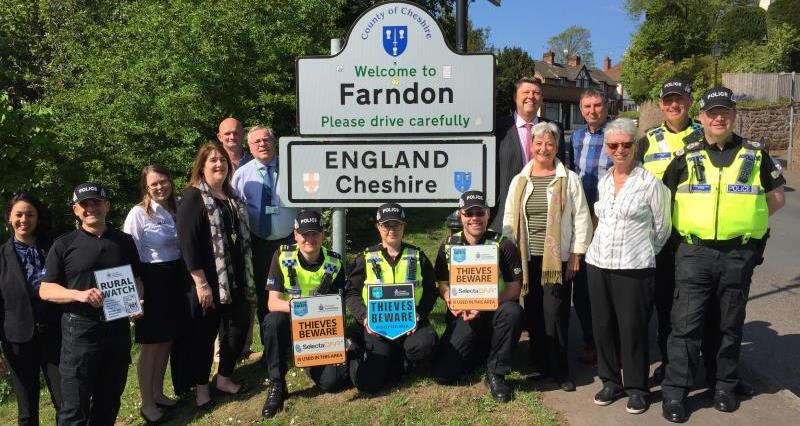 Caption: PC Gigg launches his initiative in the village of Farndon
Helpfully, PC Gigg wants this to include livestock on farms, so is in the process of setting up a trial on sheep hooves to see if it's a viable option.
PC Gigg explained: "A company called SelectaDNA have created a marking system for hooves which they claim does not degrade over time. Via the NFU we'll be working with a farmer to test the product. We'll do monthly integrity checks to see if the DNA marks are still viable and effective. SelectaDNA will pay for the pilot which I'm devising with NFU Cheshire County Chairman Phil Latham.
"My objective is to roll out Operation Shield to every property across the 21 parishes I have direct responsibility for. That means going door to door to in excess of 5,500 properties."
The DNA liquid is barely visible and hard for offenders to see. Once it's applied, it is extremely difficult to remove. All property recovered by Cheshire Police is scanned by Ultra-Violet beams to check for traces of the DNA liquid. The property is then closely examined by high powered microscopes which can identify the individual code. This information is then inputted into the database of registered addresses and can be traced back to the owner.
The Chester office of the NFU is looking to sponsor 500 signs for Operation Shield.
To find out more, email PC Gerard Gigg: R2VyYXJkLmdpZ2dAY2hlc2hpcmUucG5uLnBvbGljZS51aw==