It was a poignant moment as hundreds of people gathered at a Carlisle mart to pay their respects to a giant in the livestock auctioneering world.
Farmers, livestock breeders and business leaders from all corners of the UK had gathered not for the usual hustle and bustle of a busy livestock mart sale day, but to pay their respects to David Thomlinson. His funeral was being live streamed on a giant screen in the Borderway Auction Mart at Rosehill, where he had spent 57 years of his working life.
Anecdotes were exchanged about a man they counted as a friend and mentor, who liked nothing better than standing in the rostrum and selling anything presented in front of him - with the challenge of achieving the best price.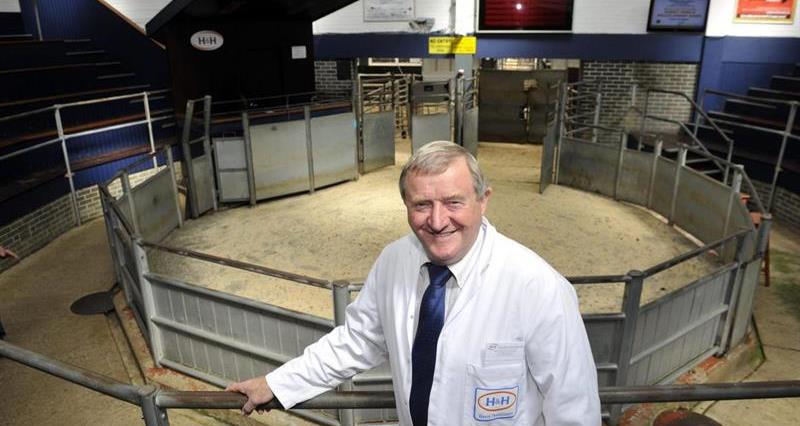 A hush descended as mourners were asked to stand while on the screen an image appeared of David's coffin being carried into the tiny Scaleby Church where he had been a regular worshipper.
Warm tributes have flooded in from all over the globe for David, one of the best-known auctioneers of his generation, after he passed away two weeks ago following a tragic accident on the family farm at Scaleby. He had been working with a newly born calf in a pen.
The decision to webcast David's service at the mart and Scaleby Village Hall was taken by family and colleagues at Harrison & Hetherington after it was realised the tiny village could not cope with the numbers of mourners, which tallied more than 1,000.
The service was led by Reverend Elizabeth Gough, who said perhaps it was no coincidence that she, a farmer's daughter, should lead David's service.
Then a tiny ripple of laughter went through the watching crowd as Rev Gough added there was a chaplain standing by 'just in case technology fails'.
In a tribute to the auctioneer's early life, Rev Gough said it would have been David and wife Sheila's 49th wedding anniversary. The couple met back in the sixties at the Cosmo in Carlisle, when Sheila, a farmer's daughter from Yorkshire who was then living in Annan, caught his eye.
The couple moved to Park View, David's parents' farm in 1988. "Sheila mentions that David said, 'when you get to Scaleby and got clay on your clogs you never moved'," said Rev Gough.
"He loved his dogs Tink and Pip, who miss him, and was proud of the many young auctioneers he had mentored. I hope you've only picked up his good habits and ensure his legacy lives on through future generations.
"Ask yourself what would David, or DT or Tommo as I know some of you called him say or do."
H&H joint managing director, David Pritchard said David was also a livestock breeder, an acclaimed and valued judge of livestock and an inspirational character for the younger generations he had mentored through their early days.
Brampton vet David McCrea, before reading the poem The Auctioneer, said: "A neighbour told me he had asked David why he didn't take things a little easier and retire from the auction. David replied he couldn't give up the auction because he needed to look after his customers. But he didn't mean customers, he meant his friends."