A Cheshire farmer has been honoured at NFU Conference for his dedication to helping the NFU make the British farming industry safer for all.
This year's North West regional winner of the Meurig Raymond Award – named after the NFU's former President – is Kit Hopley, who has backed the Cheshire NFU and YFC's campaign to help make power take-off (PTO) drive shafts safer.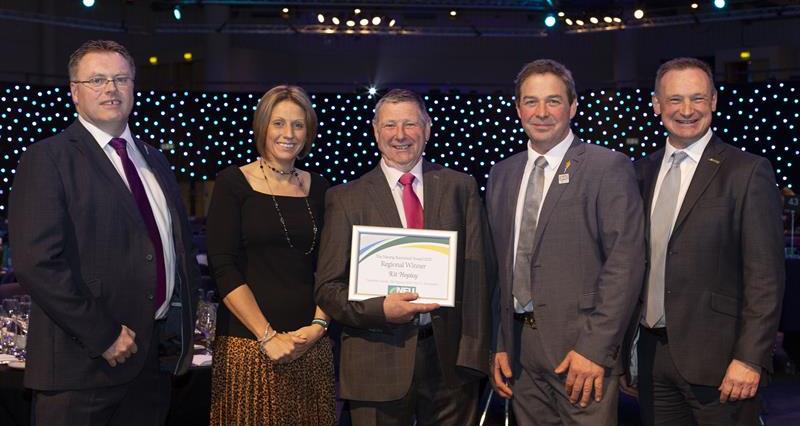 Kit has spoken out about the accident he suffered back in 1975.
Losing an arm was the easy part – the burns, skin grafts and effect on his family were much harder to deal with.For that reason he'd never properly shared the details of his story until encouraged to do so by NFU Cheshire County Chairman Richard Blackburn and NFU Cheshire County Adviser Helen Wainwright.
Kit has worked alongside Helen to encourage 11 machinery dealers to support the campaign. As part of that, all of the dealerships who have signed up are offering a 10% discount off all PTO parts.
More than 1,000 shafts have been made safe because of the campaign since the beginning of May.
At the beginning of the campaign Kit said: "I'm supporting this because I never want an accident as horrific as mine to happen again. If I can help save one life I'll be a happy man." Kit meant those words and has never turned down an opportunity to go out in the evening and share his story with fellow farmers.
The PTO safety campaign has an important message for everyone, but keeping the next generation safe was of particular importance to Kit.
He was a 17-year-old farm worker when a split second in time changed his life forever. Kit recalls: "I was pulled in by the tassels and I put out my arm instinctively. It was like being hit by a prop forward in rugby.
"My arm was broken to bits and wrapped around the shaft. Then the PTO started cutting into the side of my body, the friction burning at my clothes and then my skin."
Talking to the 17-year-olds of today at Reaseheath Agricultural College was of particular importance to Kit, who on behalf of the NFU has forged strong links with Cheshire YFC Chairman Dave Nicholas of Parkwall Farm in Tarporley.
Following the meeting, Mr Hopley said: "One PTO guard replaced can save a life. Thanks to you all for supporting me and giving me this chance."