Great opportunity to join the NFU's Next Generation Forum as the North West representative
Alastair Wilson, of T. Wilson and Sons (Farmers) Ltd, is standing down as the North West's representative on the NFU's Next Generation Forum to allow another younger member to reap the benefits of involvement.
Joining the forum back in 2015, 33-year-old Alastair says being selected for the role is a huge honour and ought to excite any up and coming young farmer or grower.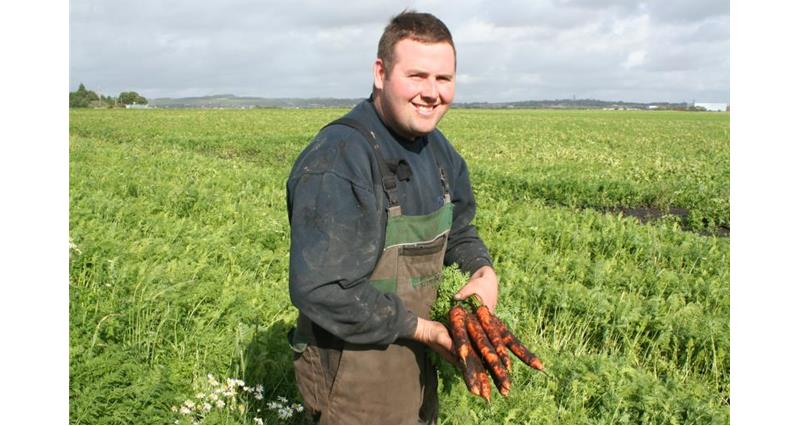 Alastair, who supplies Aldi and grows carrots, brassicas, leeks and salads, says: "There's a huge amount of resource and energy put into the next generation forum by the NFU. Having that support behind you fosters a belief that anything is possible.
"We were the first group of people to meet Michael Gove when he was appointed Secretary of State for Environment, Food and Rural Affairs. And the same happened with Gove's predecessor Andrea Leadsom."
Amongst the many benefits of involvement Alastair cites attendance at high profile meetings and being privy to up to date policy information before anyone else. But at the very top of his list sits the camaraderie, knowledge transfer and opportunities to travel.
The NFU's Next Generation Forum has a partnership with CEJA which is the European Council of Young Farmers.
"Meeting like-minded people from all across Europe and finding out about their farming systems and respective unions was fascinating," adds Alastair.
"All of your expenses are paid and many of the European visits are hosted by companies such as Massey Ferguson."
So why is Alastair stepping down?
He says: "I am one of the last people left from the original group. We were only supposed to be on the forum for two years but the original cohort gained such good momentum we soon realised two years was not long enough to influence real change.
"There were only three real meetings per year but the forum offered many chances to get involved with other things like The Prince's Countryside Fund and CEJA for example.
"I had the opportunity to take part in at least two relevant events every month if I wanted to.
"There are loads of young people in the North West who should consider taking up this baton. You'll be expertly mentored and given fantastic opportunities. Importantly you'll also be listened to, invested in and helped.
"I'll always remember being at a next generation forum meal and mentioning we were struggling with tenders at home. As a result I said I really wanted to know how producer organisations worked.
"Not long afterwards a trip to Brussels had been booked with visits to salad glasshouses incorporated to see how producer organisations in Belgium worked on the ground. It's brilliant that the NFU staff just take on your suggestions and make things happen.
"I think the group has achieved a lot. We've recently been doing work with AHDB on upskilling the industry in an effort to make sure everyone in agriculture is competent and professional.
"I've learnt much from the other members of the forum and hope that my knowledge of building relationships with retailers has equally been valued."
How to apply
The NFU's next generation forum is currently recruiting a new North West regional representative for the 2020-2022 period.
If you think you may be interested in applying to represent your sector in the NFU's next generation forum, please contact your county adviser or the NFU North West Regional Office on 01695 554900 to request more information or an application form.
Application forms will consist of a 200 word personal statement outlining your involvement in your sector and your motivation for joining the forum. The deadline for submissions is: Monday 23 March, 2020.