Dairy farmer Richard Blackburn, 50, of Baddiley Hulse Farm in Nantwich is now officially Cheshire's NFU County Chairman, succeeding his friend and neighbour Phil Latham.
Richard has spent the past two years as deputy, preparing for the role and is now eager to begin his two years in office. His chairmanship begins at a time when the industry is under constant attack from campaigners with agendas against the livestock and dairy industries.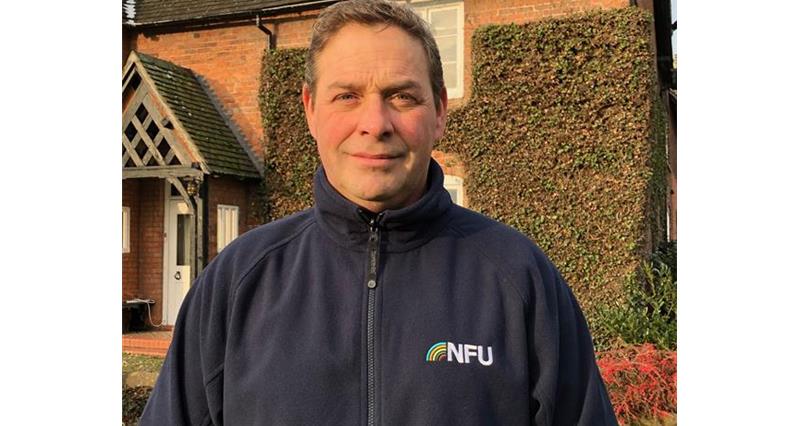 An advocate for younger people getting more involved in agriculture, Richard says he'll focus on challenging the myths spread about agriculture online and will also forge stronger links with farming's next generation.
Married to wife Claire for 24 years, Richard has two children who are both keen to follow careers themselves within agriculture. Daughter Millie, 20, currently works in the red meat industry for ABP whilst son Dan, 18, is studying agriculture at Reaseheath. Both of Richard's children are active YFC members, something he intends to use to his advantage. A joint safety campaign to raise awareness of the dangers of the tractor power take-off (PTO) drive shaft is already underway. PTOs are very dangerous if used when not correctly guarded. Every year people are seriously injured in accidents involving PTO shafts.
Milking 400 Holstein Friesian cows with followers on 470 acres, Mr Blackburn supplies 3.3 million litres of milk a year to County Milk.
Richard employs four people on a full time basis. These include a tractor man/ in-calf rearer, apprentice herdsman and two other general farm workers.
The Blackburn family rear their own replacements, calving at under-24 months and using sexed semen on the highest genetic heifers via DIY Artificial Insemination to achieve the quickest genetic gain. This allows them to serve more of the cows to a higher value British Blue bull and so limit the amount of low value black and white calves.
Richard said: "Good fertility is extremely important for a viable dairy business, with weekly vet routines meaning all cows can be targeted quickly, so the required number of pregnancies per month is achieved."