Victoria Prentis MP (Banbury, Oxon) has been updated on farming and food by the NFU during the most historic time for agriculture in a generation.
A meeting took place with the MP at Meadowsweet Farm, Horley, courtesy of farmer Martin Hamer and his wife, Emma, a senior plant health adviser with the NFU.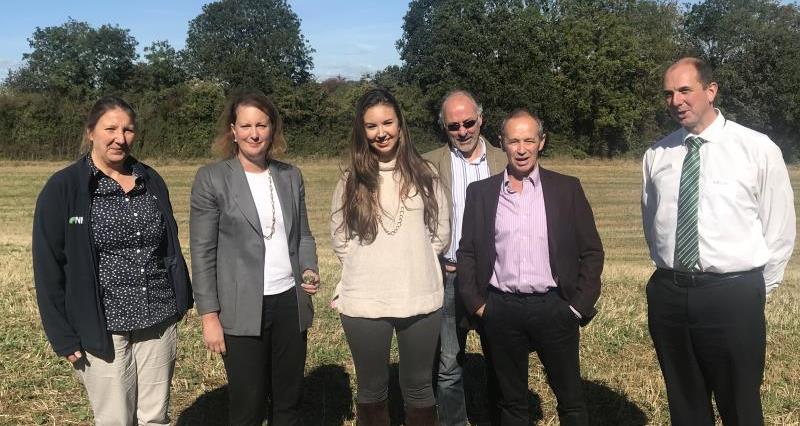 A large number of issues were discussed including the Agriculture Bill, which is due for a second reading next week, the importance of crop protection products, access to seasonal labour, rural crime and fly tipping. Bovine TB eradication strategy and compensation were also covered.
Berkshire, Buckinghamshire and Oxfordshire NFU adviser Georgia Craig said: "We had a very productive meeting with Victoria Prentis MP who has a good grasp of rural issues. We are entering the most historic time in agriculture for a generation, with the Agriculture Bill setting out a new domestic agricultural policy as we leave the EU Common Agricultural Policy. The NFU hopes to improve the Bill with the help of supportive MPs to make the foundations for a progressive, profitable and sustainable farming industry. A free and frictionless trade deal with our biggest trading partner, the EU, will be critical for our industry's future."
Pictured from left at the meeting on September 24 are: NFU Senior Plant Health Advisor Emma Hamer Victoria Prentis MP (Banbury, Oxon), Berks, Bucks and Oxon NFU Adviser Georgia Craig, Deddington NFU Group Secretary Kevin Rillie, with Berks, Bucks and Oxon NFU chair Jeff Powell and Martin Hamer.