Around 2,000 disease- resistant elm trees are being planted across the South, thanks to two projects being run by Natural England and the South Downs National Park Authority.
With support from Natural England, Hampshire farmers are planting a total of 500 elms in three locations – on the North Wessex Downs near Highclere, around Selborne, near Alton and near the Wallop Brook in the west of the county.
A further 1,500 disease resistant elms are being planted across the South Downs National Park.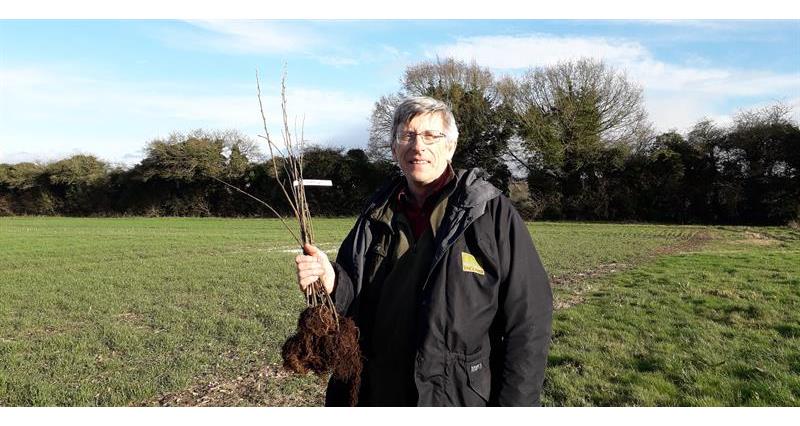 Harold Makant, of Natural England [pictured], attributes the project's appeal to the fact that people want to do something positive in the face of ash dieback and remember the sad demise of the elm to Dutch elm disease. "Farmers and landowners are keen to get the elm back – it is a tree that their parents remember well and it would be an absolute bonus to get them back. Sadly, ash dieback is definitely on the increase, owing to its airborne spores."
Andy Player, South Downs National Park Authority's landscape and biodiversity lead (trees and heaths), confirmed ash dieback is now widespread across the Park. This may account for the positive response to the project, along with concerns on climate change mitigation through tree planting, he said. Mr Player explained: "Last year we planted 600 disease resistant elms across the South Downs National Park. This year more than 1,500 elms have been planted on more than 40 sites across the South Downs National Park from eight different disease resistant cultivars, along with two hundred small leaved lime trees. These are being planted to bolster habitat for the white letter hairstreak butterfly – the elm is the food plant of this butterfly which also feeds on the pollen of the small leaved lime. We've had an incredible response from everybody, ranging from landowners to community groups and tree wardens. We hope to continue this project next year."
Farmers and landowners who are keen to help with future planting should contact the Park Authority via its general email address
aW5mb0Bzb3V0aGRvd25zLmdvdi51aw== mentioning 'elm trees' in the subject.