New technology is playing a key role in the fight against rural crime across the Thames Valley, with police working in partnership with farmers and landowners.
The NFU and the CLA held an annual liaison meeting with Thames Valley Chief Constable John Campbell on a south Oxfordshire farm on October 25. The meeting discussed the force's approach to tackling rural crime, with a boost to Thames Valley Police numbers expected soon following the Government announcement of 20,000 additional officers nationally.
Representatives of both organisations met police at West Hagbourne, near Didcot, courtesy of farmer Jeff Powell, Berks, Bucks and Oxon NFU chairman. They toured the farmyard and grain store, observing newly installed security features, before holding a roundtable discussion.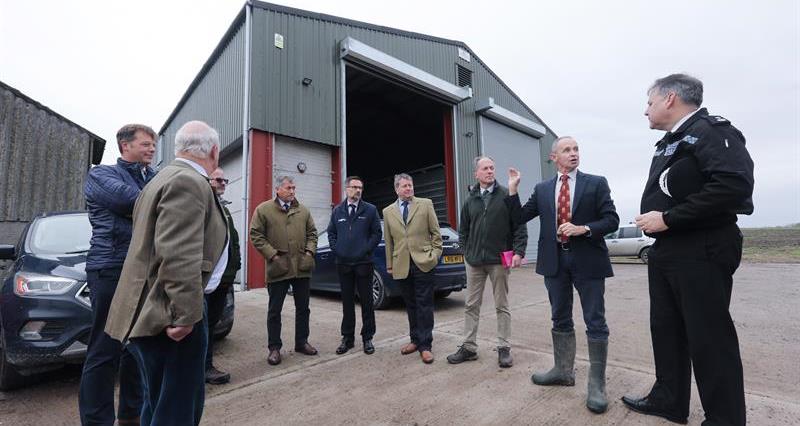 NFU South East Regional Director William White said: "Generally speaking there is great co-operation between farmers, landowners, gamekeepers and the police, tackling a wide range of rural crimes, especially hare coursing, in the Thames Valley.
"New technology is helping the police fight crime, although cybercrime is adding hugely to police workloads. Thames Valley Police uses Whatsapp for some local communications and the force is equipped to use what3words, an app that allows a location without a postcode, such as a farmer's field to be successfully identified."
The force is also training drone pilots, within a special operations unit, and the Thames Valley Police and Crime Commissioner has funded two ANPR cameras for the Milton Keynes area.
However, Mr White sounded a note of caution on illegal encampments, saying: "We have continuing concerns over traveller incursions as no local council in the Thames Valley has a transit site. This makes it very difficult for the police to assist farmers and landowners with removing those who are illegally occupying their land. We are urging local authorities to grasp the nettle but we recognise the tensions that transit site proposals cause local communities."
The farmers and landowners were warned by police of spent cannabis plants being dumped on farmland. Both NFU and CLA members were urged to report this type of incident via 101, unless it's a crime in progress, allowing the police to take the material away for forensic analysis.
Michael Valenzia, Regional Director of CLA South East which represents landowners, farmers and rural businesses across the three counties and beyond, said: "Thames Valley Police is already doing a lot of positive work fighting rural crime, and it was particularly encouraging to hear how the latest technology is being harnessed to boost the detection of criminals, help victims report crime and communities share intelligence.
"I am encouraged by the attitude of the police and the spirit of co-operation between officers and the rural community, though more can always be done. I would urge people to always report incidents to help build up the most complete picture possible of rural crime in Thames Valley."