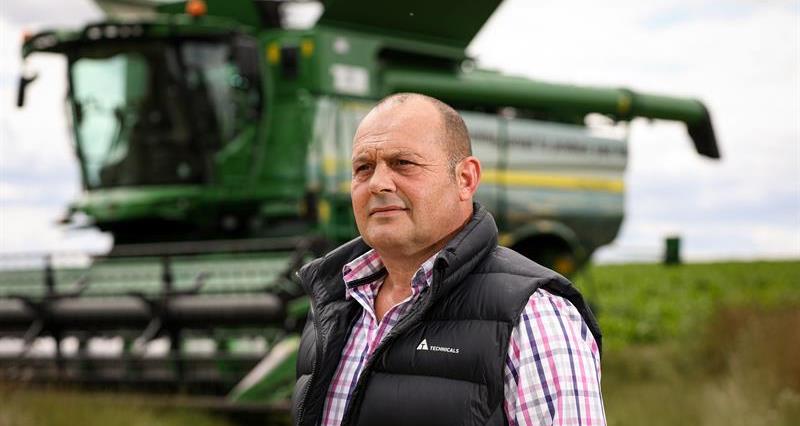 Scottish and Southern Electricity Networks (SSEN) has joined with the National Farmers' Union (NFU), sharing practical advice with farmers and contractors to help them avoid potential incidents and accidents related to power supplies during the busiest time in the farming calendar.
Earlier this summer, SSEN launched its annual campaign urging everyone across the agricultural industry to stay safe and 'Look out, Look up' when working near overhead power lines and poles. Now, with many crops due to be harvested in the coming weeks, SSEN and the NFU are issuing a timely reminder to workers across the agricultural industry to ensure they take measures that will help keep them safe throughout the summer.

In the previous twelve months, SSEN recorded an increase in the number of incidents on farms and fields across its networks in central southern England, with 419 callouts compared to 386 in the year before. These reported incidents were the result of third-parties coming into contact with the distribution operator's poles, overhead lines and cables, resulting in local electricity supplies being disrupted and having the potential to cause serious injury, or worse, to those involved.

With the main harvest period just weeks away, NFU national crops board chairman Matt Culley, a Hampshire arable farmer and contractor, said: "I have a responsibility to myself and my workforce to make sure we work safely, particularly during harvest, the busiest time of year. Risk assessing each job before starting work and knowing the maximum height of your machinery - new and old - is key, and fields with poles or pylons that may be tricky to work around should be cut first, during daylight hours.
"I'd advise great care being taken when unloading lorries and trailers to avoid coming into contact with power lines, as well as making sure you have warning signs up and constantly remind staff of any potential risks. It's essential that staff also carry mobile phones with emergency numbers including 105 - the UK-wide single emergency number for power companies – and should download SSEN's Power Track app, so they're able to quickly report any problems to the network operator."
Ian Crawley, SSEN's Network Operational Safety Manager, added: "SSEN wants to help its farming communities to stay accident-free throughout the year and hopes that through the 'Look out, Look up' campaign, it can continue to raise awareness and lower the risks associated with their invaluable work.
"We know that farmers, their staff and contractors are working harder than ever to maintain and manage their crops while adhering to current Government guidelines on working during the coronavirus pandemic, and here at SSEN we want to do all we can to help them stay safe at the same time.
"The agricultural landscape - and the farm machinery used on it - can change throughout the year and that's why we always advise taking the opportunity to carry out a risk assessment before starting any work. It's a small addition to your day that could make all the difference to staying safe."
To ensure that farmers and their teams are armed with the knowledge they need to stay safe in the field, SSEN's safety campaign is using radio and online messaging as well as issuing the following guidance:
'Look out, Look up' before you start work in any areas where electricity lines are present.
Risk assess and be aware of the height of machinery that will be in use near lines and ensure there's plenty of clearance – remember that electricity can 'jump' if an object comes near enough.
If you do come in to contact with an overhead line or cable, stay in your cab or vehicle and try to avoid touching anything metal within it.
Call 105 immediately – this is the UK-wide single emergency number for power companies and is the quickest way to put you through to the correct network operator.
If the situation is too dangerous to stay put, for example, if the machinery is affected by fire, it's advised that you leap out of the vehicle as high and as far as you can to avoid touching any part of the machinery or electricity network
SSEN is encouraging farmers and agricultural workers with any concerns relating to electrical infrastructure on their land to report this by sending a photograph directly to SSEN's teams via the Power Track App, available to download on the App Store and Google Play Store.
For information on staying safe when working near power lines, please visit https://www.ssen.co.uk/safety/.