The NFU is once again hoping to educate dog walkers about the need to use a lead near livestock and when in the countryside.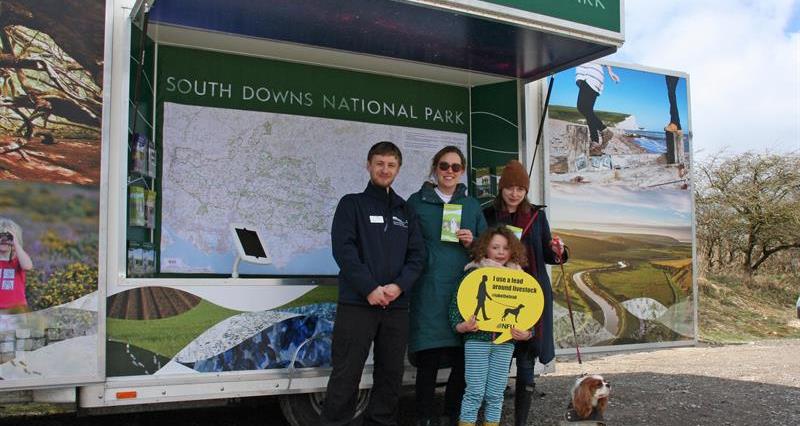 It is joining forces with South Downs National Park Authority rangers across Sussex, in a bid to reduce the incidence of dog attacks on farm animals by encouraging dog walkers to #takethelead. All too often sheep, in particular, end up being killed or horribly mutilated by out-of-control pet dogs.
Sheep farmers who are NFU members will be out in force across Sussex from Friday March 8, during a series of events* with South Downs National Park Authority rangers, in support of the Authority's Take the Lead campaign – southdowns.gov.uk/takethelead
West Sussex NFU chair Caroline Harriott said: "The number of dog attacks on livestock remains high, with distressing consequences for both farmers and dog owners whose pet could be shot if it's caught in the act. Most attacks are completely preventable, so we are appealing to dog owners to keep their dog on a lead around livestock and check that their properties are dog proof. If chased, pregnant ewes (female sheep) can commonly lose their lambs or die from stress and exhaustion."
Andrew Lee, Director of Countryside Policy and Management at the South Downs National Park Authority, said: "Our ranger teams work closely with farmers across the South Downs to ensure that farming, wildlife and people enjoying the National Park can happily co-exist.
"Our Take The Lead campaign has made some great strides in raising awareness of the importance of keeping dogs under control, but there's still work to be done. We're pleased to be working closely with the NFU to spread the message about responsible dog walking. These awareness events are well-timed given that Spring is when young livestock are particularly vulnerable."
Mr Lee added: "The National Park is a great place to walk dogs and we just want owners to follow a few simple steps to take extra care. Collectively, they can make a big difference."
New figures from rural insurer NFU Mutual reveal dog attacks on livestock in England amounted to £3,470,743 over the past three years (between 2015 and 2018), and cost South East farmers more than £400,000 during this time period.
A National Police Chiefs' Council's report on livestock worrying released during February 2018 that analysed data from five forces including Sussex found that owners were not present during more than half of dog attacks on livestock."
The #takethelead campaign messages will be amplified by the NFU on social media during 2019 and through countryside events and walking festivals where dog owners will be present.
-ends-
Notes To Editors
High resolution images both of the events on Friday and Saturday will be available (weather permitting) afterwards from: aXNvYmVsLmJyZXRoZXJ0b25AbmZ1Lm9yZy51aw==
The South Downs National Park Authority's Take The Lead campaignsouthdowns.gov.uk/takethelead which has been running for several years now, encourages dog walkers to keep their dog on the lead around livestock, bag and bin dog poo, stick to the path during ground nesting bird season (March – September) and to stay out of Ministry of Defence danger areas when the red flag is flying.
Estimated cost of livestock attacks to UK agriculture from 2015-2018 inclusive, based on claims reported to NFU Mutual:
Country/Region

2015-2018 inclusive

Scotland

£766, 593

Wales

£706,601

Northern Ireland

£289,056

England

broken down as:

£3,470,743

North West

£504,118

East

£191,267

South West

£1,018,651

Midlands

£912,040

South East

£411,249

North East

£433,418
EVENTS FRIDAY MARCH 8
West Sussex:
Clayton Windmills, Hassocks, West Sussex on FRIDAY March 8 from 8am. Farmers Mark Lee & Oliver Lee. Phillippa Morrison-Price, South Downs National Park Authority Ranger, Mobile: 07917 602371
Cissbury Ring – Car Park, Storrington Rise, BN14 0HT – from 10am/12 noon.
West Sussex NFU chair Caroline Harriott t: 07774 190189, with sheep. South Downs National Park ranger Tom Parry: 07866 961634, plus Sussex Police.
EVENT SATURDAY MARCH 9
Whiteways Car Park, Bury Hill, BN18 9DF – 10am/12noon. West Sussex NFU chair Caroline Harriott t: 07774 190189, with sheep. Farmers Simon Payton, Darren Sercombe.
EVENT MARCH 22
East Sussex
From 10am/lunchtime on March 22 -Telscombe Tye, Saltdean, BN2 8DY.
Farmer Tim Armour at Telscombe Tye: 07711 674030 / 01273 302486. South Downs National Park Authority Ranger Jan Knowlson - 07973 738160.