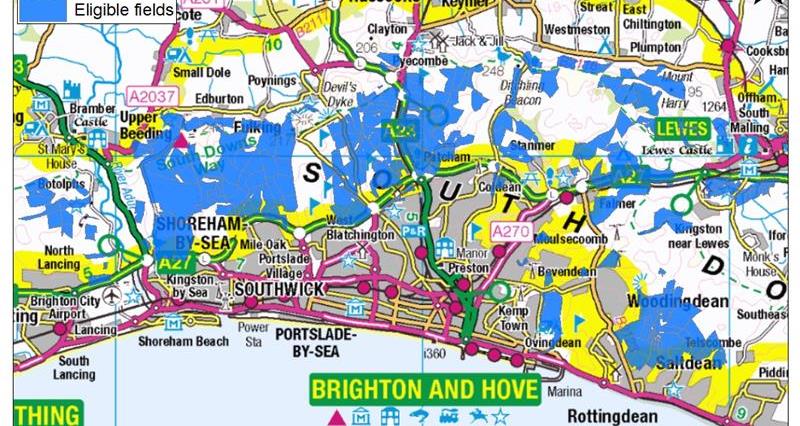 Nitrate reduction measures – Brighton:
Southern Water is once again offering farms in the Brighton Chalk Block a series of funded measures to help use Nitrogen more efficiently, and thus reduce nitrate leaching, particularly in the cooler, wetter months. On eligible field parcels it is offering:
Autumn and spring Soil Mineral Nitrogen (SMN) sampling and interpretation

– free service, up to 8 fields per holding

Cover crops to retain nitrates

- £35 per hectare, up to 25 hectares per holding

Precision farming for N

- £5 per hectare, up to 100 hectares per holding

Crop tissue testing

– 100% of cost up to £60 per field, up to 8 fields per holding
The map attached shows which fields are eligible for the measures (in blue).
Within the next few days, project officer Robin Kelly will be making contact with all those farmers who took part last year to discuss the options and provide a more detailed map. He hopes new participants will also come on board for the first time.
Southern Water launched its nitrate reduction measures, including payments for cover crops and free SMN sampling, in the Brighton area last year. A total of 12 farms signed up for at least one nitrate reduction measure, some of which were still being funded through ChaMP (now The Aquifer Partnership – TAP). The measures taken up stopped an estimated 8,435kg N from leaching into groundwater (based on Farmscoper modelling). This is a fantastic effort and Southern Water hopes that in the long term this work will be able to reduce the amount of Nitrogen in our drinking water sources as well as keeping valuable nutrients in the field.
Catchment Risk Officer Robin Kelly t: 07795 640914 www.southernwater.co.uk